Brian Jackson - Fotolia
Ford's approach to employee activism: Listening
Ford is asking for feedback from employees in an effort to develop its corporate culture. Doing so has led to new ways of measuring how employees feel about the firm.
LAS VEGAS -- Employees at some leading U.S. firms have been speaking out about environmental issues such as climate change, as well as other social and political issues. This employee activism arrives at the same time businesses are trying to understand employee experience, and some companies see a link between the two. Take Ford Motor Co.
In July, Ford, Honda, BMW of North America and Volkswagen Group of America reached a voluntary agreement with California to reduce vehicle emissions for cars and light trucks. This put Ford and the other automakers at odds with President Trump's administration, which wants to rollback emission standards. In September, Trump announced that his administration is revoking California's waiver to set standards on auto emissions.
Ford's decision to back California was encouraged by its employees, said Julie Lodge-Jarrett, the firm's chief talent officer. It follows a multiyear effort to better understand the firm's culture, which included doing more to listen to employees and encourage their feedback.
Tapping into employee feedback is "causing us to have a greater stance socially, maybe not politically, but around human rights, around human progress, around trust and what role businesses play in trust," Lodge-Jarrett said in an interview following her presentation on Ford's cultural transformation efforts at the HR Technology Conference & Expo.
Employee activism as feedback
"We and the Ford family are foundational in a better world, and so we're going to be more public in the future around things like emissions and the environment," Lodge-Jarrett said.
This approach "is reinforced by our employee expectations that we're a big company and we should be influencing the broader system that we live in," Lodge-Jarrett said.
Ford's efforts to better understand and develop its corporate culture began soon after the appointment in 2017 of CEO Jim Hackett. He wanted to figure out how Ford's brand strategy intersects with its corporate culture strategy.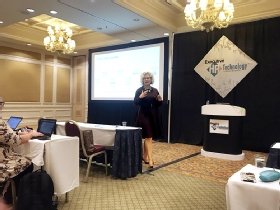 In her presentation, Lodge-Jarrett described a broad effort to work with employees to pull back the covers on Ford's corporate culture. The approach involved the use of tech and outreach efforts, and included holding "culture hackathons" -- intensive two-day meetings with groups of employees -- to "hack" Ford's culture.
Efforts also included employee town halls and the use of technologies such as video tech developed by Altru Labs Inc. A question is posed to employees and leaders at the firm, and they can respond via a video app. Ford has used the technology with interns, for instance. They created videos about their experiences, which were then shared on college campuses, Lodge-Jarrett said.
Tech has made it so easy to listen that we have no excuse not to in a company of our size and scale.

Julie Lodge-JarrettChief talent officer, Ford
From all of its efforts, Ford developed a series of "truths," such as "put people first," "create tomorrow," "do the right thing," "be curious." The HR department is also measuring culture change through quarterly pulse surveys, asking six to 10 questions, as well as using a more in-depth annual survey. It is using Qualtrics technology. Jay Choi, vice president of EmployeeXM at Qualtrics, was the co-presenter at this session.
"Tech has made it so easy to listen that we have no excuse not to in a company of our size and scale," Lodge-Jarrett said to her audience. "Our employees right now at Ford are more than happy to share their voice, but if they don't see us acting on it, they're going to stop."