Fotolia
Employee activism challenges HR's employee experience strategy
Employees aren't afraid to challenge their employers on workplace and social issues. That kind of employee activism may challenge HR to rethink its employee experience strategy.
Employees are increasingly demanding a higher standard of conduct from their employers. They are going public to drive change, which could put pressure on HR departments to improve their employee experience strategy.
Three recent high-profile protests illustrate this change in workplace attitude. Last month, employees at home goods retailer Wayfair protested a furniture order to a migrant detention center. In May, some 7,600 Amazon employees signed a letter pressing for action on climate change. Last fall, about 20,000 Google workers protested the company's response to sexual harassment. Google employees didn't stop there: In May, they staged office sit-ins to protest alleged retaliation against some employee protestors.
The protests illustrate what experts see as a cultural shift in the workplace. The change is partly generational, said Martha Bird, lead anthropologist at HR software and services provider ADP LLC, based in Roseland, N.J. It comes from people who were raised to believe "that they had the capacity as individuals to actually affect change," she said.
"Work and life are really becoming more blended," Bird said.
But how the company manages such change may fall to HR leaders. Understanding and measuring employee attitudes is part of HR's employee experience strategy. The risk for firms can be deeper than just a public protest. Experts see a direct link between employee hiring and retention.
Values linked to retention
Forrester Research, in a forthcoming employee experience survey, linked corporate values to retention. It found 87% of employees who agree with their company values are likely to stay with their employer, said Anjali Lai, an analyst at Forrester. That's compared with 76% for the average employee. The data comes from a global survey of more than 13,000 workers.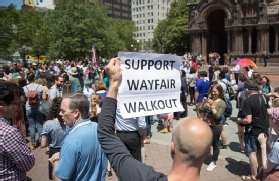 Alignment in values pays off in productivity, as well, Lai said. The survey found 85% of today's employees who agree with company values say they're very productive at work, compared with the benchmark average of 72%.
"Consumers are increasingly demanding to do business with companies that stand for certain social, moral, political values that the customers agree with," Lai said. These consumers demand the same standards of their employers. "Values-driven consumers are also employees," she said.
Prospective employees are taking a similar tact. They are interested in a firm's values, as well as the job itself, as they look for the "right fit for themselves," Bird said.
"They're really interviewing the potential employer as much as they're being interviewed or maybe even perhaps more," Bird said.
HR may be falling short
The employee experience strategy has become an increasing HR focus. But Deloitte, in its recent annual report on human capital trends, said employee experience often "falls short" in understanding what workers want. It argued that employees want "to connect work back to the impact it has on not only the organization, but society as a whole."
Values-driven consumers are also employees.

Anjali LaiAnalyst, Forrester
HR's employee experience strategy typically highlights improving processes, such as onboarding. Bad onboarding processes have been linked to retention problems. The strategy may also include more frequent surveys, sometimes as often as once a quarter, to track employee sentiment and engagement.
But the rise of employee activism might prompt employers to dig deeper.
"I think it's important for employers to see what their employees are posting [on public social media] and not necessarily in a nefarious way," said Michael Elkins, a labor and employment attorney at MLE Law, based in Fort Lauderdale, Fla. "You should know who you're working with, know what they like, what they don't like."
Elkins, who counsels employers on how to prevent employee claims, said a firm's culture is important.
"Modern technology has given employees easy access to the behavior of companies," Elkins said. "Whether one agrees or disagrees" with a particular protest action, "the fact is employees know they're able to garner attention for causes," he said. They'll try to "effectuate change."
Employees are also consumers
"You almost have to think of your employees like they're consumers," said Greg Barnett, senior vice president of science at Predictive Index, a behavioral and cognitive assessment firm in Westwood, Mass. If consumers perceive a misstep by a firm, it may generate a social media backlash. Something similar is happening with employees, and "this is the new normal," he said.
Barnett said giving employees the voice to raise social issues may be a positive thing to do.
"Can we find a safe and productive way to let employees feel empowered, to voice their opinions on what the business is doing?" Barnett said. Allowing employees to organize "to show passion behind a topic" may help build a stronger workplace culture.
But Barnett said it's possible that some of these protests, such as the one at Wayfair, might have been prevented "had there been louder voices" at the "leadership level about some of the business practices and more transparency about where the business was doing business."