Getty Images
What ethics hotline data says about employee discontent
Until COVID-19, use of ethics hotlines was on the rise over the last decade. But that may have more to do with changes in workplace practices than an increase in ethical breaches.
There is anecdotal evidence that more people are unhappy at work today than in years past. The quit rate is at record levels, and social media channels, such as the Antiwork forum on Reddit, with 1.7 million members, are filled with criticisms of workplace practices.
Data suggests that employees may also be more likely to report an issue at work today than in years past.
The Sarbanes-Oxley Act of 2002 required public companies to provide whistleblower or ethics hotlines. Employees use these hotlines to report financial issues, misuse or misappropriation of corporate assets, and HR issues, such as discrimination, harassment and diversity-related issues. Companies often rely on third-party hotline services, which provide anonymity for employees making reports.
Navex Global Inc., which provides risk management and compliance services to 13,000 businesses, including managing ethics hotlines, has been tracking data on trends in ethics hotline use for years. Its most recent analysis, released last year, looked at 1.3 million individual reports from employees at the firms it serves.
Ten years ago, the median number of internal employee reports was 1.2 per 100 employees; it rose to 1.3 in the years following and then 1.4 reports per 100 employees in 2016, where it remained until the COVID-19 pandemic. Complaints declined to 1.3 per 100, or more than 1.3 million reports overall. Furloughs, layoffs and the shift to remote work likely attributed to the decline.
Employee reports rise again
Navex's preliminary analysis of 2021 data shows that reporting "levels are going back up, especially during the latter half of 2021," said Carrie Penman, chief risk and compliance officer at Navex.
But Penman sees an increase in reports by employees as a positive sign. "The objective of a strong compliance program is to create an environment where employees feel comfortable reporting concerns and asking questions internally," she said.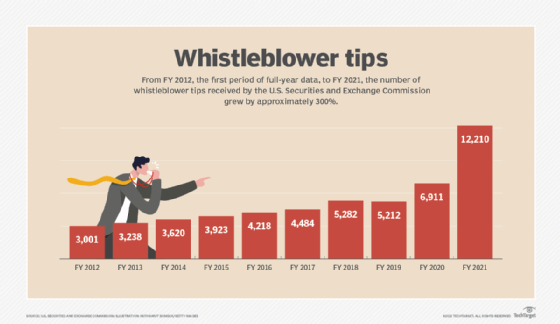 Indeed, companies with reporting systems that "are more actively used and most used are easily the best companies to work for," said Kyle Welch, assistant professor of accountancy at George Washington University School of Business.
"These firms are actively soliciting feedback all the time," Welch said. As a result, more problems are reported, but fewer lawsuits are filed, lower settlement amounts for those lawsuits are agreed to and fewer fines are handed out. Welch published an analysis of his findings in a 2018, which was based on an anonymized analysis of Navex data.
When you're managing humans, every organization is going to have problems.

Kyle WelchAssistant professor of accountancy, George Washington University School of Business
Firms that encourage employee reports understand that these systems provide "a way to see what you wouldn't hear otherwise," Welch said. Other firms think that "if we don't hear about a problem, or have one of these systems, then the problem doesn't exist, which is just not the case," he added.
"When you're managing humans, every organization is going to have problems," Welch said. "No organization escapes this."
But the Navex data doesn't capture all options employees have to make complaints.
Apart from ethics hotlines, employees may be taking their concerns directly to their managers, HR departments or audit departments, or even writing a letter to the board. They may also be reporting problems directly to federal and state agencies or airing grievances on social media platforms.
The influence of social trends
Broader social trends also influence employee reports.
During social protests in 2020, for example, there "was a significant increase in reports that were about discrimination," said Juliette Gust, president and co-founder of Ethics Suite, a provider of anonymous reporting tools and complaint management consulting services based in Phoenix.
In that vein, Gust said things like antiwork sentiment on social media might also encourage people to complain.
On the one hand, complaints are increasing in some industries and locations, Gust said. She cited the following reasons:
Employers are giving employees more channels to lodge complaints.
There has been an uptick in available channels to lodge complaints outside of an employer's control, notably social media.
Society is encouraging "speak up" culture.
There is more acceptance of complaints by organizations and in society.
But some forces work against complaints, according to Gust, including the following:
Remote work may be reducing complaints.
Employees don't have the confidence to lodge complaints because of a fear of retaliation.
There may be a lack of training on when employees should lodge a complaint; for example, is an employee responsible for complaining about fraud committed by a supervisor?
Employees may lack trust that complaints will be acted upon because of how companies have responded in the past.
GWU's Welch said some believe whistleblowing is happening more often because there are more problems, but he called this flawed thinking.
People are feeling "more able to speak up," Welch said, pointing to the #MeToo movement, which prompted an increase in employee reports.
"Did the #MeToo movement happen because we have more perverts? Probably not," Welch said. It happened "because we had more people willing to talk about the issues they faced," he said.
Patrick Thibodeau covers HCM and ERP technologies for TechTarget. He's worked for more than two decades as an enterprise IT reporter.