Fotolia
Pressure grows on HR to improve talent retention, hiring
Training is a high priority for technical talent, but training budgets rise and fall with the labor market, according to data from the Society for Information Management.
The top concern for CEOs in 2020 is attracting and retaining talent, according to a just-released study by The Conference Board, Inc. Talent needs ranked higher in this study than cost reduction, wage inflation, data privacy and a long list of other business concerns.
Last year ended with an unemployment rate at 3.5% -- its lowest since 1969. "Demand for highly talented employees now exceeds supply in most mature economies," according to the non-profit research organization's study. In short, "job openings are more difficult to fill," it reported.
The burden of solving the talent retention and hiring problem falls on HR departments. One thing they are doing is becoming more customer-centric in how they treat their employees, said Chuck Mitchell, one of the authors of the study, and the nonprofit's executive director of knowledge and content quality.
HR departments are trying to deliver an employee experience that's on par with what people are used to as customers -- and it's what employees expect today, Mitchell said.
"This really starts to put a lot of pressure on HR to become truly customer-centric," Mitchell said. HR, historically, "hasn't thought of employees as their customers," he said.
Training critical to talent retention
A key part of talent retention is training the existing talent base, especially people with technical skills. These skills are changing so quickly "you really can't hire your way out of it," Mitchell said.
This really starts to put a lot of pressure on HR to become truly customer-centric.

Chuck MitchellExecutive director of knowledge and content quality, The Conference Board, Inc.
IT organizations appear to be addressing the issue by spending more on training. New data from the Society for Information Management (SIM) shows how training budgets increased as the labor market improved following the 2008 downturn.
People who work in IT "want to keep up, want to know about the latest thing," said Leon Kappelman, a professor of information systems for the G. Brint Ryan College of Business at the University of North Texas, and the primary investigator of the 2019 SIM IT Trends Study. "Training money tends to help retention," he said.
But based on the SIM data, it's hard to know exactly how much training translates into retention.
IT turnover and training budgets were relatively low until the economy grew stronger, and then both turnover and IT training budgets increased. About one-third of the turnover, in any given year, is involuntary.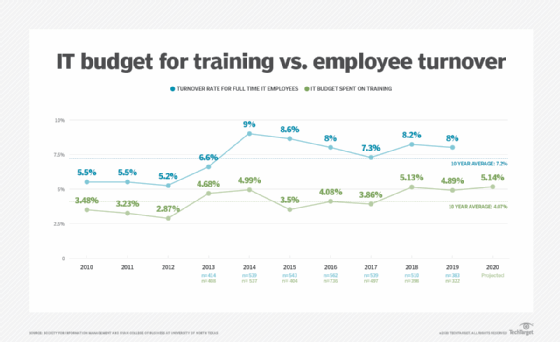 Turnover stabilized with training
When turnover spiked in 2013, shooting up to 9%, training budgets increased as well and "turnover kind of stabilized," Kappelman said.
The Conference Board surveyed nearly 1,600 CEOs and C-Suite executives globally. Its report argues that AI-enabled tools can enhance employee experience, but for now, 80% of AI-enabled products are addressing recruiting.
The Conference Board believes that HR will increasingly turn to AI-enabled tools to improve operations and employee experience. AI will be used to recommend compensation packages, health benefits based on employee personal profiles, and mine qualitative data, such as online discussions, to assess employee sentiment. Mitchell said a lot of these capabilities are still "aspirational" at this stage, and not yet deployed.
Dig Deeper on Talent management