SuccessFactors expands internal talent marketplace concept
SAP SuccessFactors' new Opportunity Marketplace aims to create a holistic view of employees and connect them with short- and long-term career opportunities and training.
Internal talent marketplaces arrived to make it easier for employees to develop new skills and opportunities and for employers to improve retention. The concept has given rise to an active start-up vendor market.
This week, SAP SuccessFactors said it is taking the internal talent marketplace in a new direction with a broader offering, what it calls an "Opportunity Marketplace." The new product was announced at the firm's SuccessConnect conference this week.
The concept behind the tech is to capitalize on all of the missed opportunities available to employees. These can include learning, boot camps, mentorships, internal assignments, gig work, sabbaticals and other types of roles, said Amy Wilson, senior vice president of products and design at SuccessFactors. But the goal is also to couple that with an overall understanding of individual employee goals, interests and skills.
SuccessFactors' Opportunity Marketplace will use technology from a recently acquired firm, SwoopTalent, which can integrate data from internal systems, regardless of vendor. Wilson said its technology will enable its marketplace to go beyond direct matching and use "more inference" based on a holistic view of the individual, work styles, values and passions.
The SuccessFactors marketplace comes at a time of transition for HR departments. The pandemic has changed employee attitudes about the workplace, raising quit rates and the importance of schedule flexibility.
The change in business today is "all-around more personalized careers," said Anabel Fall, group head of people innovation and transformation at Zurich Insurance Co. Ltd., and one of the conference's speakers.
'Dynamic teams' for collaboration
"We really need to think about upskilling and reskilling to make sure employees are ready for the future," Fall said. "We need to think about the managers' mindset -- moving them away from being managers of capacity to guides of people and enterprise talent."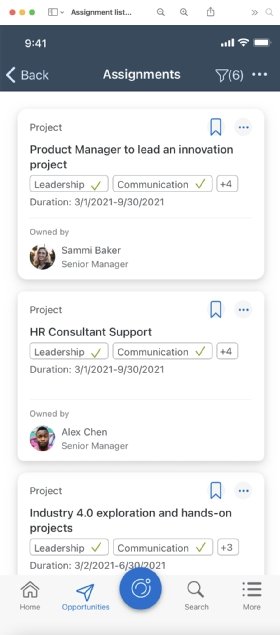 A second announcement was a preview of a "dynamic teams" capability planned for release later next year. The idea will be to bring together people from multiple backgrounds to collaborate on a project.
Dynamic teams may broaden a manager's scope when assembling teams for a project. Today, managers are more likely to select people they know, not necessarily who can help them in the company or who can deliver the most help. Wilson said the people needed for a team "are really hidden in core HR systems."
Wilson said that a firm might not know its employees' skills and capabilities and how people grow through their training.
Steve Goldberg, vice president and research director of the HCM practice at Ventana Research, said the Opportunity Marketplace will serve up curated, personalized content, learning and growth options, and "importantly, keep pace with each individual's evolving needs, interests and goals."
Goldberg said the team concept is a hot topic in HR technology because "composition and fit influences team engagement and productivity."
Patrick Thibodeau covers HCM and ERP technologies for TechTarget. He's worked for more than two decades as an enterprise IT reporter.