olezzo - stock.adobe.com
Remote work is in decline, but not with this CEO
Beeline Inc.'s shift to remote work increased productivity. CEO Doug Leeby avoids mandating office returns and is planning a collaboration-focused office redesign.
Beeline Inc. took up new office space in a converted old warehouse in Jacksonville, Fla., its headquarters. CEO Doug Leeby called it a "very cool place," with a tech-oriented design and high ceilings, as well as a meditation room, a mother's room and other amenities.
But, three weeks after employees started working in the new office, COVID-19 forced them to work remotely full time. And that never changed.
On any given day, of Beeline's 220 employees based in Jacksonville, only about 20 use the office. Beeline, which operates a SaaS contingent or extended workforce management platform, has offices in other locations, including Denver, Sydney and Manila, Philippines.
While Leeby said some part of him would like to see his headquarters buzzing again with people, he knows it will not happen.
"It would be unwise of us to try to mandate people coming back to the office, especially because the productivity is so good," Leeby said of remote work. It could also create a retention risk, he said.
The U.S. Bureau of Labor Statistics (BLS), in a just-released survey of 91,000 businesses, found that 27.5% of all establishments had employees teleworking some or all of the time last August and September, the months the survey focused on.
But, in the tech industry, which includes Beeline, nearly 70% of workers were telecommuting all or part of the time, according to the BLS survey, including software developers and analysts. Business consulting services were second at just under 50% telecommuting.
Still, businesses are trying to get employees back into the office -- and some are succeeding. In a similar BLS survey in 2021, 39% of all establishments had full- or part-time employees teleworking.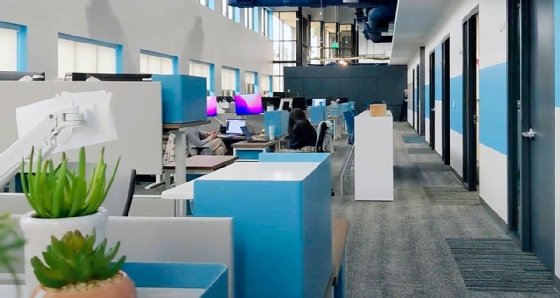 Back to the office
Many organizations want employees back in the office, said Caitlin Duffy, analyst in Gartner's HR practice.
"They're missing the visibility of being able to see what employees are up to in the same environment day to day," Duffy said.
Duffy added that, while some businesses try to entice people with social events and amenities, many hesitate to mandate a return to the office.
"Organizations are reluctant to force employees back to the office because they don't want to lose those employees. They don't want to spark attrition," Duffy said.
It would be unwise of us to try to mandate people coming back to the office.

Doug LeebyCEO, Beeline Inc.
Just how much remote and hybrid work will decline is an open question. According to a recent Gartner survey, nearly half of employees told to return to the office don't come back as often as required by their in-office policies.
About 60% of the workforce worked from home at least some of the time during the pandemic, said Kate Lister, president of Global Workplace Analytics, a telecommuting research and consulting firm. "That proves they can," she said.
Lister said 20% to 30% of employees want to work remotely full time. The rest prefer a hybrid arrangement of three or more days at home, but companies want employees in the office at least three days, she noted.
Before the pandemic, Beeline workers in the U.S. primarily worked out of the Denver and Jacksonville offices, although the company supported some telecommuters then.
After the pandemic forced a shift to work from home, employee productivity "went through the roof," Leeby said. "People were, frankly, overworking themselves. We weren't asking them to; that's what was happening."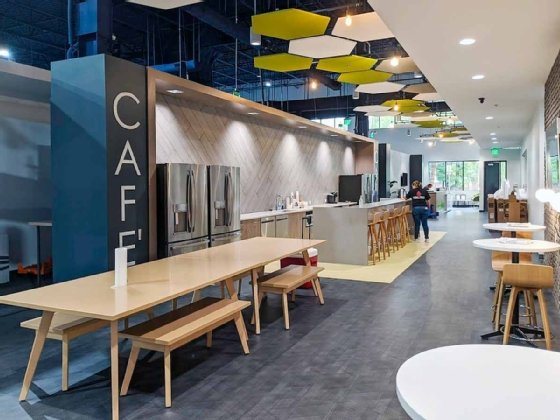 Pros and cons of office work
As a sense of normalcy set in, people developed routines that accommodated work and family, Leeby said, and since then, "productivity has been fantastic."
Leeby's flexible approach to remote work is getting attention. The Florida Times-Union recently recognized Beeline as the top workplace and as having the top leadership in Jacksonville in the midsize business category.
But, Leeby said, there are clear benefits to working in the office.
"There's no question in my mind you lose something from a collaboration, a cultural, training and development perspective," he said. But those attributes, while important, aren't "overly important."
The company now plans to redesign its offices and shrink its footprint to facilitate employee collaboration activities and meetings.
Leeby has tried incentivizing employees to use the office by hosting lunches and happy hours.
"They come back for that, and then they leave two hours later," he said with a chuckle. "It was nice to see them, but the effect I was going for was not achieved at all."
Patrick Thibodeau covers HCM and ERP technologies for TechTarget Editorial. He's worked for more than two decades as an enterprise IT reporter.