imtmphoto - Fotolia
Put infrastructure automation at the heart of modern IT ops
IT automation, DevOps at scale and hybrid infrastructure management are three critical -- and interconnected -- IT operations initiatives for 2020.
LAS VEGAS -- Successful IT leaders know how to navigate change. In 2020 and beyond, that skill will almost certainly be put to the test.
To remain relevant and competitive in the years to come, enterprises need to embrace top IT trends around infrastructure automation, hybrid management tools and DevOps -- despite the growing pains they'll inevitably face along the way. How to do just that was the subject of discussions at Gartner's IT Infrastructure, Operations & Cloud Strategies Conference here this month.
Automate, automate, automate
In search of greater agility, and faced with demands to do more with less, enterprises should increasingly lean on automation, from a business process standpoint and in IT infrastructure.
"Automation is to modern infrastructure what blood is to the body," said Dennis Smith, research vice president at Gartner, at the event. You simply can't run one without the other, particularly as IT teams manage complex and heterogenous infrastructure setups.
At this point, the benefits of IT automation are well-established: a reduced risk of human error and an IT staff that has the time to work on more strategic, higher-level, involved tasks. But making the shift from manual to automated IT management practices in configuration management, capacity planning and other critical tasks can be tricky. And it won't be easy to staff up with the requisite skill sets.
That's a challenge for Keith Hoffman, manager of the data network at Sharp HealthCare, based in San Diego, Calif. "My team is made up of legacy network engineers, not programmers," Hoffman said. "But we've talked about [the need for automation], and we see the writing on the wall."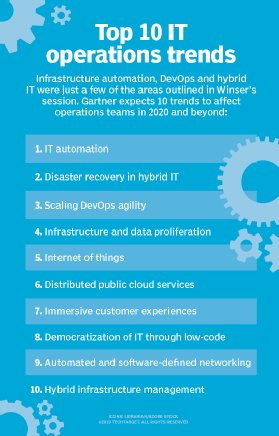 Hoffman's team currently has some ad hoc instances of IT infrastructure automation via scripts, but the goal is to scale those efforts, particularly for automated configuration management. They've taken training courses on select automation and orchestration tools and turned to Sharp HealthCare's internal DevOps team to learn and apply automation best practices.
To help close skill gaps, and to encourage broader IT automation efforts, enterprises should appoint a dedicated automation architect, said Ross Winser, senior director analyst at Gartner. The automation architect should help IT navigate the ways it can achieve infrastructure automation -- infrastructure as code, site reliability engineering, a move away from traditional scripts in favor of AIOps practices -- as well as the vast ecosystem of tools and vendors that support those efforts.
Hybrid IT management
Hybrid environments are a perennial IT trend. As these setups become even more complex, IT ops leaders need to further refine their infrastructure management practices.
Increasingly, one enterprise IT workload can span multiple infrastructure environments: dedicated data centers, managed hosting and colocation facilities, the public cloud and edge computing locations. While these hybrid environments offer deployment flexibility, they also complicate troubleshooting, incident response and other core IT operations tasks. When a failure occurs, the complex string of system connections and dependencies makes it difficult to pinpoint a cause.
"The ability to actually get to an answer is getting harder and harder," Winser said.
Many operations teams still rely on disparate tool sets to monitor and manage resources in hybrid IT, adding to this complexity.
"I think the challenge is having a common tool set," said Kaushal Shah, director of infrastructure and information security at Socan, a performance rights organization for the music industry, based in Toronto. "What we do internally at the infrastructure layer is a lot of scripting and CLI-driven configurations, whereas in the cloud, every cloud provider has their own CLI."
Shah -- whose team runs IT infrastructure on premises and in AWS and Microsoft Azure -- said he's evaluating infrastructure-as-code tools like HashiCorp Terraform and Red Hat Ansible to "level the playing field" and provide a centralized way to manage resource configurations. Adoption poses a learning curve.
"[My team members] have a certain background and I think, for these tools, it's a different mindset: You have to describe the state of the asset as opposed to how to configure it," Shah said.
Gartner notes that many of these integrated management tool sets are still in the early days of truly centralized, end-to-end hybrid management capabilities. Infrastructure and operations teams should also use workflow visualization and dependency mapping, and create internal centers of excellence, to combat hybrid IT challenges.
Scalable DevOps
For many IT shops, DevOps implementation is a significant priority. For those that have a DevOps foundation in place, the next big challenge is to ensure it can scale.
It's common practice for enterprises to get started with DevOps via pilot or incubation programs. And while there's nothing wrong with this approach, it could impede IT leaders' ability to enforce DevOps as a broad, cross-functional practice throughout the organization. A DevOps team, or even multiple DevOps teams, can sprout up and work as silos within the organization -- perpetuating the very barriers DevOps sought to break down in the first place.
Shared self-service platforms are one way to ensure a DevOps practice can scale, remain responsive and span different functional groups, Winser said. Think of them as a digital toolbox from which DevOps teams, including infrastructure and operations practitioners, can access and explore tools relevant to their role. A shared tool set promotes consistency and common best practices throughout the organization.
In addition, site reliability engineers -- who work with application developers to ensure highly reliable systems -- can promote scalability within DevOps shops. Automation also plays a role.
Socan's Shah sees DevOps as an option to transition his team out of "fire-fighting mode" and into a position where they work hand in hand with developers and business stakeholders. DevOps, in combination with streamlined hybrid IT management and infrastructure automation, could bring the team out of a technology-focused mindset and onto a platform-ops approach, where developers interact with the infrastructure via API-driven interfaces as opposed to sending IT tickets to build things.
Dig Deeper on IT operations careers and skills