olly - Fotolia
Proxmox VE 6 and later offers container features, better security
Proxmox VE, an open source virtualization management product, provides admins with several features, such as VM live migration, backup abilities and high availability.
The virtualization industry is full of proprietary and open source products that provide IT administrators with a variety of options for deploying their virtual environments. One product in particular that has not received as much attention is Proxmox VE, an open source virtualization management platform that tightly integrates both the KVM hypervisor and Linux container (LXC) technologies. Proxmox VE's most recent release, 6.1, includes the latest updates to the product, such as new container features, easier management, better security and improvements in availability.
Admins might choose a propriety product to get a system that's highly polished and well supported, or they might opt for an open source offering in order to have access to the codebase and reduce operating costs. Proxmox VE 6 released in July of 2019 and was quickly followed by version 6.1 that following December.
An introduction to Proxmox VE virtualization management
Proxmox Virtual Environment, or Proxmox VE, is a complete server virtualization platform based on the Debian GNU/Linux distribution. Proxmox VE is a free, open source OS and is known for its ability to manage both KVM and LXC in a single, unified platform. By incorporating both KVM and LXC into its platform, Proxmox VE can deploy a wide range of use cases.
According to Proxmox VE documentation, the platform supports the most demanding Linux and Windows application workloads, while still delivering performance and high availability (HA). For example, admins can scale out compute and storage resources as their requirements change, starting with a single node and expanding to a large cluster to accommodate growing workloads.
The cluster stack is fully integrated in Proxmox VE and part of the default installation. Admins can use Proxmox VE for both cloud computing and to consolidate server resources, all while supporting both VM- and container-based applications. Admins can also use Proxmox VE to install, manage and monitor a hyper-converged infrastructure, adding to the product's use-case versatility. Another feature Proxmox VE offers is live migrations, which enable admins to move running VMs from one cluster node to another without noticeable disruptions.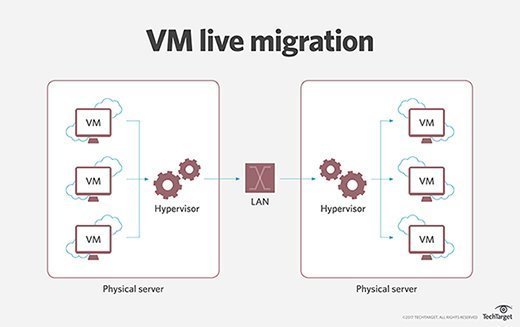 Proxmox VE also includes other features that make it suited to a variety of uses. For example, Proxmox VE can work with local or shared storage, supporting configurations such as direct-attached storage, network-attached storage, storage area networks and Ceph distributed storage. Proxmox VE uses software-based network bridging, which can handle up to 4,094 bridges per host. It also enables the use of virtual LANs, and network bonding and aggregation.
Currently, Proxmox VE has a worldwide user base with over 270,000 hosts, and the web-based management interface has been translated into 19 languages. Despite this size of its user base and its many features, smaller organizations tend to implement Proxmox VE for smaller deployments. Even so, it is a highly regarded product that holds its own against both proprietary and open source solutions.
Proxmox VE 6.1 release introduces enhanced features
The Proxmox VE 6.1 release brought with it a number of new and updated capabilities. For example, Proxmox VE 6.1 introduced a new feature called pending changes, which enables admins to modify a running container and retain those changes after a reboot. In addition, version 6.1 updated features related to the Simple Protocol for Independent Computing Environments (SPICE). These updates make it easier to add audio devices, enable video streaming and share folders between a VM and the SPICE client.
Admins can use Proxmox VE for both cloud computing and to consolidate server resources, all while supporting both VM- and container-based applications.
Management and security benefit in the 6.1 release. For example, admins can change network configurations and reload them into the Proxmox management interface without a reboot. Version 6.1 also added configuration options, such as cluster bandwidth limits for backup and restore operations. In addition, the 6.1 release enhanced two-factor authentication so that the product can use hardware keys based on the time-based one-time password algorithm.
Proxmox VE 6.1 introduced improvements to the HA stack. For instance, Proxmox VE 6.1 includes a new migrate shutdown policy that automatically moves services to another node upon host shutdown and moves them back once the node is back online. Backup and restore features have also benefitted from the upgrade: Admins can now manually run scheduled backup jobs from the Proxmox management interface. Admins can back up VMs even if they enable the IOThreads feature, which helps enhance performance.
Moving forward with Proxmox VE 6.1
Admins' deployment of Proxmox VE 6.1 will depend on the size of their clusters, the types of OSes they must install, the platform features they plan to use and other details specific to their workload requirements. For example, if admins want to implement an HA cluster, they should deploy at least three cluster nodes and ensure that they've implemented the necessary hardware redundancy. Admins should also ensure that all nodes can connect to each other via UDP ports 5404 and 5405 in order to support Cluster Manager.
Admins must take into account a wide range of considerations when deploying Proxmox VE 6.1. A good place to start learning about Proxmox VE deployments is the product documentation, and if that's not enough, check out the support forums. In addition, the Proxmox company offers several subscription plans for getting Proxmox VE support services. However, even without the support services, Proxmox VE is a platform worth checking out and admins have little to lose by evaluating the product for themselves.
Dig Deeper on IT systems management and monitoring