isoga - Fotolia
Use Microsoft SCVMM to clone a VM
There are some requirements you must meet to clone VMs with SCVMM, but the steps to clone an existing VM -- whether it's running, paused or shutdown -- are fairly simple.
Using System Center Virtual Machine Manager to clone a VM is relatively easy. It only takes a few clicks to have...
Continue Reading This Article
Enjoy this article as well as all of our content, including E-Guides, news, tips and more.
a cloned VM running on the Hyper-V host of your choice, but you should clone a VM that has already been generalized.
In SCVMM you can clone running, paused or shutdown VMs. Before the release of SCVMM 2012 R2, you had to stop the VM before you could execute the cloning process.
Why clone a VM?
One reason to use cloning is for rapid VM deployment. Cloning a running production VM is also beneficial if you run a mission-critical VM. For example, you don't need to take the VM offline to test an upgrade. You can clone the running VM, test the upgrade and then apply the upgrade to the production VM if it's successful.
With the cloning process, you can keep a copy of a critical VM to restore it in case of failure. Furthermore, you can copy a cloned VM to the SCVMM library and you can use it to create VM templates.
Requirements of SCVMM clone VM
Before you proceed with the cloning process, there are some requirements you must meet. You must run SCVMM 2012 R2 or later versions so you can see the option to clone a VM.
You can clone an existing VM, but cloning a nongeneralized VM might cause issues. Microsoft recommends generalizing a VM using the Sysprep tool before cloning it. The VM must be deployed on the Hyper-V host or stored in the SCVMM library. Other than those requirements, you must have sufficient permissions to initiate the cloning process.
Steps to clone a VM
Even if you clone an already generalized VM, SCVMM runs the Sysprep tool to generalize it again after cloning to avoid any duplicate security identifier issues. The steps for cloning are quite simple. All you need to do is find the VM you want to clone and then click on the clone action.
In SCVMM, go to the Virtual Machine tab. Right click on the VM you want to clone, click Create and then click Clone, as shown in Figure A below.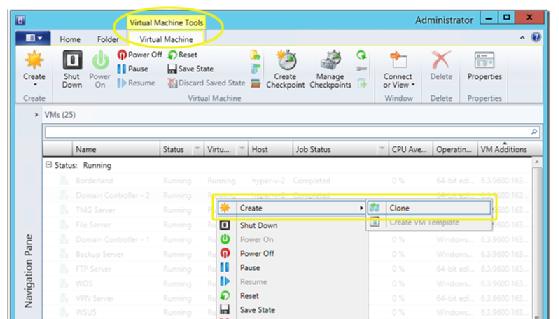 Next, you will be presented with a cloning wizard. You must provide an identity for the cloned VM, configure hardware for the VM and select the destination for the VM. SCVMM helps you deploy the VM to the target host, which isn't the case when you use the cloning process in Hyper-V Manager.
Dig Deeper on IT systems management and monitoring