Low-code development platforms bring speed, friction
Low code is enabling organizations to push out mobile apps more quickly. But, for some organizations, low-code platforms introduce organizational challenges.
BOSTON -- Mobile app development is often more of a long-distance race than a sprint, but not always.
Low-code development platforms such as OutSystems and Appian enable IT teams to push out apps faster with fewer resources. At OutSystems' NextStep conference, experts discussed some use cases and challenges of low-code development.
Low-code development platforms enable developers -- as well as employees outside of IT with less development experience, dubbed citizen developers -- to build cross-platform mobile apps using templates and drag-and-drop components. Developers using OutSystems can write code in languages such as C#, JavaScript and CSS if necessary, too.
OutSystems is also available as a platform as a service (PaaS), which enables IT to eliminate the management of physical infrastructures.
Controversy of citizen developers
Low-code PaaS offerings provide a smooth transition for citizen developers in lines of business that already use software such as Salesforce and NetSuite, said Jason Wong, research director at Gartner.
Low-code development platforms provide opportunities to citizen developers, and that alone can initiate friction between citizen developers and experienced developers.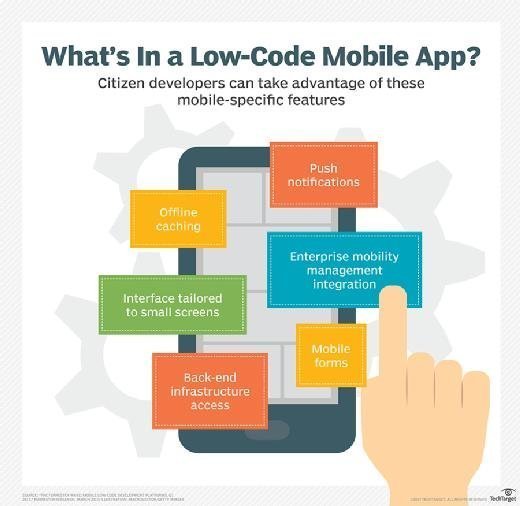 "Developers are, by nature, looking out for themselves from a skills perspective to make sure that they're growing and that their skills are transferable," Wong said.
At DuPont Pioneer, an agricultural sciences company based in Johnston, Iowa, citizen developers build about 90% of the company's internal mobile apps using OutSystems, said Jay Parnau, a software development manager at the company.
[Low code] allowed [developers] to work at a speed that we couldn't provide as an IT department.

Jay Parnausoftware development manager, DuPont Pioneer
There was initially tension when the company tried to push OutSystems onto its traditional development group, Parnau said. DuPont then divided the developers into separate groups with different projects and priorities, and the citizen developers focused on building apps that would have never gotten to the Scrum team.
The company's citizen developer program expanded so fast that it's difficult to govern issues such as plug-ins competing with each other and hardware problems, Parnau said.
"On the flip side, it's allowed [developers] to work at a speed that we couldn't provide as an IT department."
Pros of low code
Despite some inevitable friction, however, there's a growing acceptance that low-code development platforms have a purpose and use case, Wong said.
Organizations in the public sector typically have fewer resources, such as a staff of developers and budget, than those in the private sector, for example. This made the City of Oakland a perfect fit for low-code development, said the city's CIO Andrew "Pete" Peterson.
With OutSystems, Peterson's team built a mobile app that decreased the time spent on the fire inspection process. Previously, Oakland fire inspectors struggled to complete the process because there was limited cellular service near homes in the hills that needed inspection. Now, inspectors can perform tasks, such as downloading forms, on an Apple iOS app without online connectivity.
The low-code platform helped Peterson to establish credibility in his role at the City of Oakland by enabling the team to build out apps quickly.
"The more projects they do, the more [the organization] believes in us," Peterson said.