The employee experience includes dark mode. What enterprise apps have added it?
Dark mode is popular with users, so it behooves any EUC vendor following the employee experience trend to add it to their apps.
I think it's time we had a time about dark mode as part of employee experience. Last year certainly felt like the year of dark mode, helped by Apple and Google adding it to their latest versions of iOS and Android. It was definitely the consumer focal point of iOS 13 during WWDC2019 (Apple previously made dark mode available in macOS 10.14 Mojave in 2018). And, dark theme/night mode is on Android 10/Android 9 with Samsung ONE UI.
Many vendors have been pushing product announcements and existing product positioning under the guise of improving employee experience. So, we've been wondering why we don't hear much from vendors about adding dark mode to their apps? Maybe you think that dark mode is merely a fad, but users out there swear by it (I personally have it enabled on all my devices), and part of a good employee experience is about letting employees work the way they want to.
Despite the relative silence in the EUC around dark mode, plenty of apps support it.
What options are available?
Given how vendors are positioning themselves around employee experience, let's see exactly what apps currently support dark mode, including a few digital workspace platforms.
Not long after iOS 13 became generally available, Microsoft announced that the Intune Company Portal supported dark mode. Microsoft already offered a dark theme for Office 365 subscribers on Windows and macOS, with the latter version able to dynamically change depending on whether the Mac was in dark or light mode. Outlook on iOS and Android supports dark mode, too. Weirdly, Intune Company Portal on Android currently lacks dark theme support.
One additional move Microsoft made was to provide a dark mode SDK for iOS, so third-party app developers could more easily add the popular new theme to their iOS apps. A nice move, I'd say!
While it's not clear whether Workspace ONE Intelligent Hub will eventually support dark mode and dark theme (VMware didn't respond in time for publication), Boxer already does. For both mobile OSes, Boxer follows the device settings on whether to enable dark mode or dark theme, with the ability to force dark mode on or off, if users prefer.
The Citrix Workspace app does not support dark mode and Citrix told me they do not plan to implement it at this time. For a company doing their best to take the lead in the employee experience conversation, it's a surprise to hear that dark mode isn't coming.
On iOS and Android, Google G Suite users can enjoy dark mode or dark theme on their devices for their native apps. Much like the above apps, G Suite will use system settings to determine whether dark mode is used or not. Unfortunately, for iOS users, dark mode setting doesn't always appear in the app and it's luck of the draw whether you'll see the option to enable it. It's not clear what the issue is, but people have been complaining since Google first announced the dark mode/dark theme roll out back in September 2019.
Lastly, workspace apps aren't the only EUC products toying with dark mode, many general apps integrated it, too. Some apps with dark mode that many of us in EUC daily include Slack, Twitter, and Pocket. For those interested, Dark Mode List compiled 92 apps that use dark mode on iOS and desktop.
Alternate dark mode options?
OK, so many EUC apps don't offer dark mode yet (if they ever will), but what is a user to do that doesn't like seeing non light-themed backgrounds? Well, you have a few options.
Firefox for iOS offers a non-native dark mode experience for all websites accessed through the browser. I tested it out and it largely works, but it does lead to some websites being given an awkward makeover. It's better than nothing, though!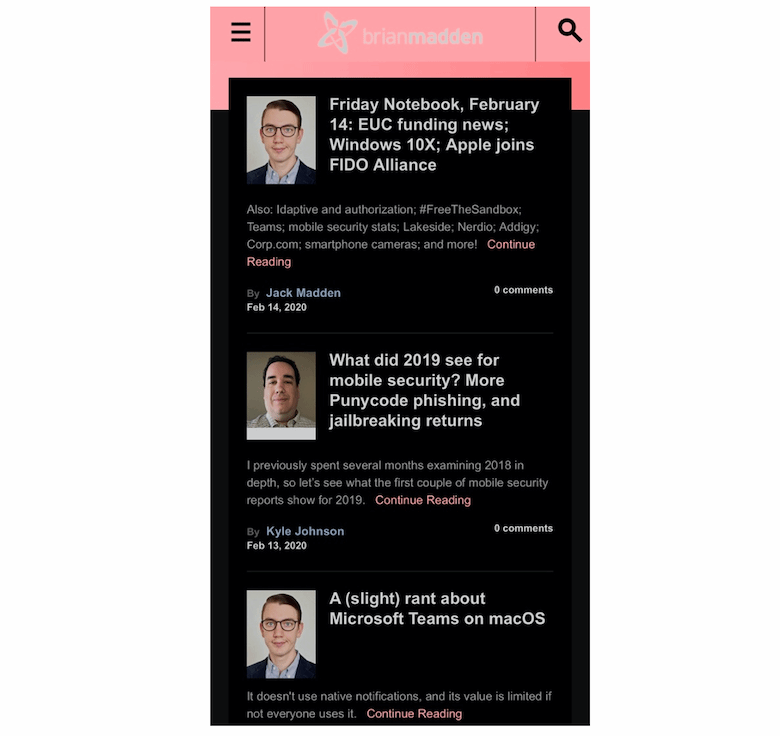 Chrome on macOS will follow your system settings for dark mode, though it's mostly just for the border of the browser app, rather than whole webpages. The desktop version of Firefox has a downloadable dark mode theme. Safari will also use system settings to activate dark mode and websites can add in support for dark mode through WebKit. (Jack showed me that users can create a quick on/off toggle for dark and light mode on macOS.)
For Android users with a bit more technical know-how that want to add dark theme to all their apps, there's DarQ. It does require you to use the Android Debug Bridge as you need elevated privileges for it to work, which will likely run afoul of some MDMs as ADB needs developer mode enabled on devices.
Closing thoughts
Regardless if you think dark mode is good or bad, it's here and people like it, so EUC vendors should support it.
I was surprised to find out that Microsoft was one of the first supporters right out of the gate and not only that, but they released an SDK that makes it easier for other apps to integrate it. They don't tend to be ahead of the curve when it comes to EX, just look at Jack's recent rant about Microsoft Teams on macOS.
Dig Deeper on Mobile infrastructure