violetkaipa - Fotolia
Mobile device convergence brings security challenges
The trend of mobile device convergence, adding more functionality to smaller hybrid devices, is growing in intensity with the COVID-19 pandemic, and IT must be prepared for it.
The sting of the COVID-19 global pandemic forcing many into remote work -- combined with the trend of BYOD in the enterprise -- is changing the dynamic of the mobile device convergence.
The concept of digital and technological convergence, combining the computing power of a desktop, a smartphone and a tablet into one device, goes all the way back to the mid-2000s. In the past decade, the idea of device convergence has gained steam, especially with mobile devices that support voice, video and text communications for enterprise users.
Despite the WFH stipulations, employees are still expected to be available 24/7, which puts pressure on employees to always have a work endpoint nearby and available.
Remote work and its devices are here to stay
An incredible 42% of the U.S. labor force is now working from home due to the coronavirus crisis, according to Stanford University economist Nicholas Bloom. Global Workplace Analytics, a consultancy firm, expects that 25% to 30% of the workforce will be working at home on multiple days per week by the end of 2021, even in a scenario where the COVID-19 pandemic has already ended.
The portability of mobile device convergence enables remote employees to work in a remote workspace in ways that corporate desktops just can't match, such as providing a desktop-style interface and keyboard for applications on a tablet-style device.
The headlong shift to teleworking in response to COVID-19 has forced administrators to accept the use of mobile devices during remote work. Some organizations might typically block mobile devices from secure corporate systems. But, with the increased reliance on these devices, especially if users don't have access to their usual endpoints, blocking mobile access isn't always realistic.
Mobile device convergence on the market
Plenty of new converged devices are pushing the concept forward, including the Microsoft Surface Pro X. This device combines access to the familiar desktop office applications with the sleek, touch screen capabilities of a tablet. Microsoft has just introduced Surface Duo as well, which is a double-screen device that takes advantage of the Google Android mobile OS in concert with Microsoft 365 applications.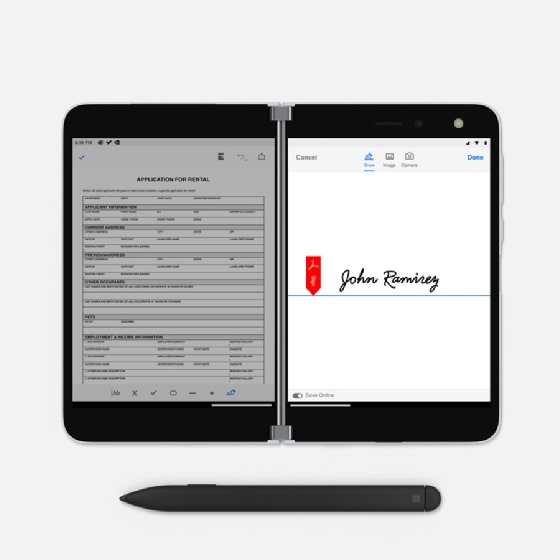 Organizations that deploy Microsoft Surface and Surface Pro devices to their users range from the mining company Newmont, the Australian Cricket union organization and the low-cost airline Norwegian Air. Norwegian Air, for example, is using Surface Pro tablets to function as electronic flight bags, replacing traditional paperwork that flight attendants must do. 4G LTE Advanced wireless technology can connect at numerous airports across the world, so flight crews can conduct flight management tasks, share critical documentation and communicate more efficiently.
Apple's latest iPad tablets also come with powerful features that follow the trend of mobile device convergence, including support for keyboard data entry and the ability to write directly on the screen of the tablet with a finger or a stylus. Even Blackberry may be getting back into the mobile device convergence game with a new QWERTY keyboard-equipped device on the horizon.
Securing remote and personal converged devices
This increased use of mobile devices has a massive effect on the way IT admins handle remote endpoint security. If nobody is going into an office, that means laptops, tablets and smartphones are plugging into home internet connections rather than a corporate network. On top of this, mobile device convergence will require a mix of mobile and desktop application deployment to fit the hybrid device users' needs.
A worker may want the traditional Microsoft Office desktop applications, but the traditional mobile versions of other applications. IT administrators will must find ways to ensure these converged mobile devices have access to stable versions of business and custom line-of-business applications as well.
The Microsoft Intelligent Security Association said in April 2020 that 60% of endpoints are mobile devices that are woefully under-protected.
Even before COVID-19 spawned the push towards WFH, a December 2019 SANS Institute survey on endpoint security found that 56.3% of the employee-owned mobile devices connecting to the corporate network were not centrally managed or part of a security program. Prior to the massive disruptions of the coronavirus, converged mobile devices were not subject to many of the same layers of security that corporate desktops or laptops would be. The Microsoft Intelligent Security Association said in April 2020 that 60% of endpoints are mobile devices that are woefully under-protected. Remote workers sometimes have to share sensitive files, which offers a prime opportunity for hackers to intercept data midstream.
Using auxiliary devices with mobile converged devices helps organizations save on storage by passing extremely sensitive data between devices using zip drives or other portable storage mechanisms. IT admins should keep in mind that zip drives can transfer viruses between multiple machines, so consider adding some external device scanning security measures.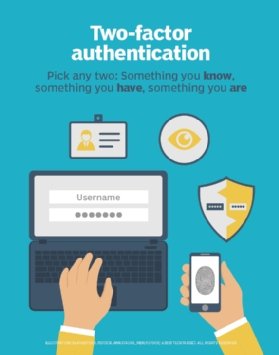 The combination of the BYOD craze, the mandated requirement to WFH and the task of securing multiple endpoints for a newly distributed workforce can leave IT administrators with a headache. Many employees are now expected to run a VPN on any converged mobile device they use for work. For additional security measures, network administrators should enforce powerful endpoint encryption whenever possible and require employees to use multifactor authentication and strong passwords.
With the advent of Wi-Fi 6 and 5G, connectivity for converged mobile devices will improve. This will aid both the IT administrators and device users, providing more accurate visibility of the wireless LAN networks and cellular connections. Business endpoints that are connected to a strong network at all times -- even when users are away from Wi-Fi -- allow IT administrators to closely monitor the devices and users to access corporate data from any location.
Dig Deeper on Mobile operating systems and devices