Fotolia
How do I choose the right network automation tools or platform?
In your organization's search for the best network automation platform for business operations, compare the pros and cons of proprietary and open source tools.
Much like anything in the world of networking, your organization makes an important choice as it selects the right product or tool for its operations. Either you choose a proprietary service from a well-known commercial vendor or you opt for the open source route.
Such is the case with network automation tools and platforms. Major network vendors often tout their own automation tools, such as Cisco's Crosswork Network Automation portfolio or Extreme Networks' Workflow Composer. If your network is a single-vendor service, then a vendor-built option may be the right fit.
Alternatively, open source automation and scripting tools can also accomplish an organization's automation goals. Examples of open source tools for automation include Ansible, Python, Salt, Yang and OpenConfig.
Proprietary vs. open source network automation tools
The benefit of off-the-shelf, vendor-specific automation platforms resides in their simplicity to integrate and provide network automation benefits with less effort compared to open source alternatives. Many of these tools come with prebuilt automation processes. Also, the automation platform can read current configurations to help determine which automated processes would benefit that environment.
With proprietary tools, you can also fall back on vendor support when you have product questions or problems. Thus, off-the-shelf network automation tools require less planning when an organization moves from manual network configuration and deployment processes to semi- or fully automated processes.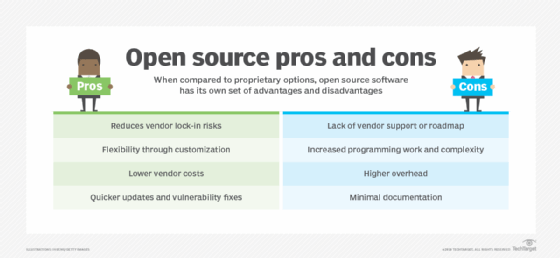 However, vendor-created products cost money and are typically only useful when most of the underlying network comprises hardware and software from the same vendor the network automation tools come from.
For those on a tight budget or in networks with multiple vendors, open source automation tools are a better choice. The drawback is these tools likely require more planning and automation preparation before your organization reaps any benefits. This is especially true if your network is large, complex or both.
The good news is that active, online communities can provide open source support. Thus, if you get stuck as you use an open source or scripting tool to automate processes, someone will likely be there that's either already solved the specific issue you have or is willing to help you figure it out.
This was last published in
December 2019
Dig Deeper on Network management and monitoring
Prevention is the only line of defense against an extortionware attack. Learn how extortionware works and why it can be more damaging than ransomware. Continue Reading
SMS is being supplanted by RCS to let carriers compete against WhatsApp and Messenger and open new avenues to business messaging. Learn the ... Continue Reading
Networking describes how devices interconnect to share resources with each other. Telecom, which includes networking, broadly refers to the exchange ... Continue Reading