CenturionStudio.it - Fotolia
Get started
Bring yourself up to speed with our introductory content.
What is generic Ethernet access?
Generic Ethernet access is a new carrier service rolling out in the United Kingdom. Is this a technology that can work for you?
Editor's note: Generic Ethernet access is a technology that is gaining traction in the United Kingdom. But it's a service that might be appealing to U.S. enterprises with branch offices based in England or Scotland.
The interest in generic Ethernet access (GEA) is growing within the United Kingdom as availability becomes more prevalent. However, there is still a fair amount of confusion surrounding the product's capability and its available speeds and associated costs.
In a nutshell, GEA uses fiber to the cabinet (FTTC) and fiber to the premises (FTTP) last-mile infrastructure to transmit data at speeds from 2 Mbps to 30 Mbps. Service-level agreements are tailored at 99.95%, and provisioning occurs with 39 working days. Costs average around $475 (U.S.) per month, depending upon location. While this is several times higher than a broadband circuit, businesses enjoy better uptime and symmetric bandwidth.
What your business needs to qualify
GEA is currently being rolled out within selected exchanges that support FTTC. The technology is similar to Ethernet in the first mile (EFM) because the actual connectivity from your office is based on copper. Where GEA differs is how it uses FTTC, taking advantage of the additional capability and throughput that fiber provides. (GEA is also available where FTTP is live, although this capability may be limited depending upon the carrier.)
As an offering, GEA is positioned in-between EFM and leased line services.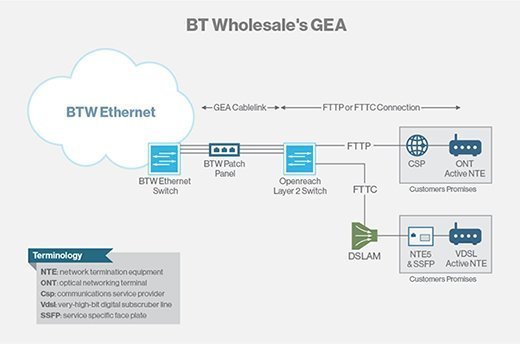 Symmetrical throughput an advantage of GEA
The key difference regarding whether or not a business would select GEA versus FTTC broadband comes down to upstream and downstream demands. GEA is a symmetrical service, offering users the same throughput upstream as they get downstream. Broadband, as a rule, is an asymmetrical service that results in lower upstream capability than downstream. EFM also offers symmetrical connectivity but, as we mentioned, does not offer the same level of bandwidth in most cases. BT's GEA service, for example, is offered contention-free and provides customers with usage stats, the choice between IPv4 or IPv6 addresses, 24/7 support, and a seven-hour repair time.
In our Network Unions partnership, we probably receive a couple of GEA inquires per week with perhaps one or two sales every few months. However, as with any new technology, the promise of GEA is appealing, especially considering its increased speed, guaranteed repair times and lower cost than the typical leased line service. That said, until GEA becomes more universally available, prospects may be advised to consider EFM if a leased line cost remains too prohibitive.
This was last published in
November 2014
Dig Deeper on Network Infrastructure
SD-WAN has a lot of potential for enterprises, especially as developers cobble together custom services and capabilities. Continue Reading
Your company is merging: How do you link disparate WAN service providers to ensure continued connectivity? Continue Reading