Andrea Danti - Fotolia
802.11ac drives enterprise WLAN market growth for now
802.11ac played a crucial role in enterprise WLAN market growth, as companies felt the pressure to upgrade their wireless infrastructure. But 802.11ax is the future.
While 802.11ac was the true wireless LAN superstar in 2018, 802.11ax -- the newest Wi-Fi standard -- has quickly become the current hot topic in the networking industry.
According to IDC's recent Worldwide Quarterly WLAN Tracker report, a little more than 93% of enterprise access point (AP) shipments adhered to the 802.11ac standard, indicating the older standard will maintain value among enterprises in the near future.
With bandwidth-hungry applications and mission-critical workloads that demand faster wireless speeds and reliable performance, enterprises are revamping their wireless LAN infrastructure. These infrastructure upgrades and 802.11ac shipments helped drive enterprise WLAN market growth in 2018 and the first quarter of 2019, leading to total market revenue of $1.4 billion, the report said. For now, the WLAN market belongs to 802.11ac.
"We see 802.11ac as the dominant Wi-Fi standard now, as it really has full penetration into the market," said Brandon Butler, senior research analyst of enterprise networks at IDC, a research firm based in Framingham, Mass.
While 802.11ac held the spotlight in 2018, it has a challenger coming in 802.11ax. The 802.11ax standard is still young and not yet ratified, so the new standard will likely first find its place among large, early adopters, like sports stadiums, conference venues, auditoriums, retailers, schools and government sectors, Butler said.
With such a large percentage of enterprises only now upgrading to the older 802.11ac standard, it will take a few more years for 802.11ax to enjoy the limelight among smaller organizations -- likely as they begin preparation for normal refresh cycles. For enterprises planning a multiyear WLAN infrastructure buildout, Butler said it makes sense to standardize on 802.11ax now, because it will quickly become the dominant standard.
"It not only brings faster speeds, but it brings more efficient radio frequency management and new features that make it especially ideal for dense Wi-Fi environments," he said.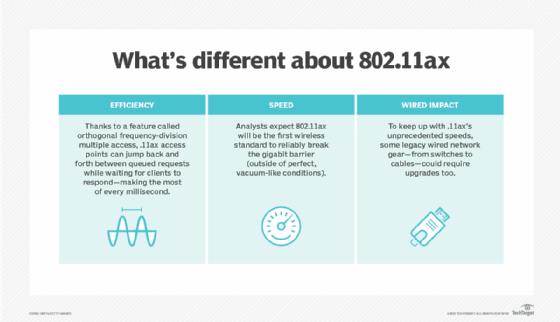 Some of the main differences between 802.11ac and 802.11ax include the following:
reliable 5 GHz transmission and better cell quality;
orthogonal frequency-division multiple access, which enables APs to simultaneously connect with multiple devices;
target wake time, which enables APs to put devices to sleep for specified periods of time; and
improvements in multiuser multiple input, multiple output.
WLAN vendors in the market
The enterprise WLAN market comprises multiple vendors with various initiatives, but only a few vendors ate up the largest shares throughout 2018 and early 2019.
Cisco continued to dominate, reaching 46.8% of the worldwide enterprise WLAN market at an annual increase of 11.6%. The vendor's WLAN portfolio includes its traditional management, the DNA Center management software and its Meraki cloud-managed WLAN offering, with the two latter options recently garnering enterprise interest, according to Butler. In April, Cisco also released its new generation of campus switches and APs that would support the 802.11ax standard.
"In a lot of ways, Cisco's entrance into the Wi-Fi market is really going to open the door for Wi-Fi 6 to increase this year and next year -- with all the major players coming out with their Wi-Fi 6 gear," Butler said.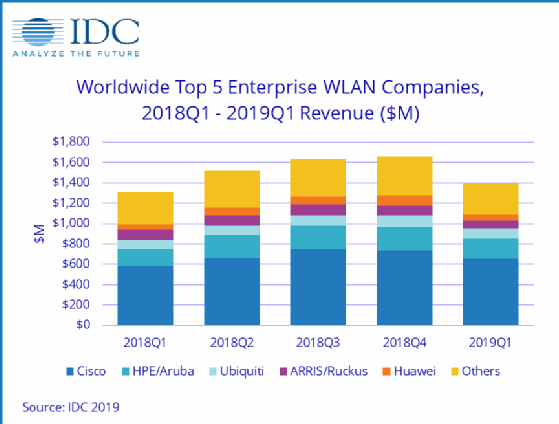 Aruba Networks also saw considerable revenue growth of 20.3% year over year. In November 2018, Aruba introduced its 510 Series AP and 2930 Series access switch, which both support the new standard. Aruba has also increasingly targeted the SMB market with its cloud-based instant APs, which Butler said likely contributed to the vendor's growth.
"Aruba has been on an innovation spree over the last couple years, building out its wireless LAN access points -- and the management system that goes on top -- and revamping its switching line to build a whole enterprise campus platform," he said.
Smaller WLAN players have been helpful for market growth, as well. Ubiquiti, for example, has seen success in the mid-market segment, Butler said, obtaining a 17.8% increase in revenue. This type of success is driving larger vendors to make similar moves, by introducing platforms that are easier to deploy and manage, stripped of the full-grade features their larger enterprise customers require, he said.
"Vendors like Cisco, HPE and Aruba are seeing the success that other vendors are having in the mid-market, and they're saying, 'Hey, we can play there, too'," Butler said.
This was last published in
June 2019
Dig Deeper on Network Infrastructure