New Cisco Wi-Fi 6 products include Catalyst switch, APs
Cisco has launched itself into the Wi-Fi 6 market with the release of the Catalyst 9600 core campus switch. Other new Cisco Wi-Fi 6 gear includes Catalyst access points.
Cisco has introduced a new generation of Catalyst campus switches for organizations ready to trade their long-standing Catalyst 6000s for Wi-Fi 6-enabled hardware designed for higher numbers of IoT and computing devices.
This week, Cisco unveiled the Catalyst 9600 Series, while also launching a significant marketing campaign for Wi-Fi 6, or 802.11ax, the latest generation of wireless internet. Cisco's Wi-fi 6 product announcements also included new Catalyst and Meraki access points (APs).
Cisco and other networking vendors are betting Wi-Fi 6's technical advantages over the previous standard, 802.11ac, will spark expensive wireless LAN (WLAN) upgrades by organizations that have to support a growing number of PCs, smartphones, tablets and IoT devices, such as medical gear, point-of-sale tablets and handheld scanners. The potential early adopters include healthcare institutions, sports stadiums and large warehouses.
While other vendors have already introduced Wi-Fi 6 products, Cisco, with its 45% share of the WLAN market and its extensive marketing resources, will likely have a more significant impact on persuading enterprises to consider the new technology in their next upgrade, analysts said.
"This is an important announcement for the industry because of Cisco's significant presence and installed base in the enterprise campus," said Brandon Butler, an analyst at IDC.
Analysts consider Wi-Fi 6 to be a significant technical advancement for the WLAN. Networking equipment built around the specification potentially offers lower latency and more efficient data transfers, while supporting many more devices than the prior generation of hardware.
IDC is bullish on enterprise adoption of Wi-Fi 6, predicting that product shipments will ramp up next year and continue growing as device manufacturers release more and more products supporting the specification. By 2022, Wi-Fi 6 will be the de facto standard, according to IDC.
Cisco's Wi-Fi 6 products
For customers who want to deploy Wi-Fi 6 today, Cisco has released the Catalyst 9600 Series as a replacement for the Catalyst 6000, which became one of the vendor's most popular campus switches following its introduction 20 years ago.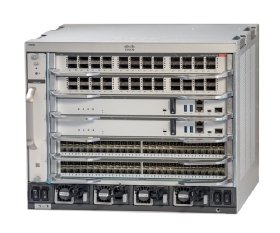 The Catalyst 9600 Series is a modular core switch that's manageable through Cisco's Digital Network Architecture Center. DNA Center is Cisco's Intent-based networking software for campus switches.
"Cisco is bringing enterprise campus core switching into the intent-based era by fully integrating the 9600 with the company's Digital Network Architecture," Butler said.
Along with modern network management are advanced features within the new programmable switch, such as 256-bit Layer 2 encryption based on Media Access Control Security, and Encrypted Traffic Analytics, a Cisco-developed technique for analyzing encrypted traffic for malware.
The 9600 Series chassis supports up to 25.6 Tbps in wired switching capacity, with up to 6.4 Tbps of bandwidth per slot. Powering the switch is version 3.0 of Cisco's application-specific integrated circuit, called the Unified Access Data Plane. Combined with Cisco's IOS-XE network operating system, the programmable ASIC enables Cisco to provide switching, routing, security and wireless control as partitioned services.
For the access layer of a Wi-Fi 6 WLAN, Cisco introduced two types of APs: the Catalyst 9100 Series for the enterprise and two Meraki MR devices for midsize companies.
The Catalyst APs provide uplink speeds of 100 Mbps, 1 Gbps and 5 Gbps on Category 5e and 10GBASE-T cabling. The APs have a Bluetooth Low Energy 5.0 radio for IoT applications, such as location tracking.
The Meraki MR45 and MR55 are cloud-managed APs, which is the hallmark of Cisco's Meraki line. The MR45 has one 2.5 Gbps multigigabit Ethernet port, while the MR55 has one 5 Gbps port.
Cisco's push into the Wi-Fi 6 market follows a month after its closest wireless competitor, Aruba, a Hewlett Packard Enterprise company, introduced software and APs focused on managing IoT devices. Other networking vendors that have launched Wi-Fi 6 products include Aerohive Networks, Huawei and Ruckus Wireless.