Wi-Fi Alliance introduces Wi-Fi 6 as part of new naming system
In networking news, Wi-Fi 6 now connotes 802.11ax technology, Aerohive Networks introduces machine learning analytics tools and Viavi releases a platform update.
Wi-Fi Alliance has introduced a naming system that identifies Wi-Fi generations by a numerical sequence that corresponds to advancements in Wi-Fi. The new naming approach aims to simplify Wi-Fi technology designations for users.
As part of the new system, Wi-Fi 6 was announced this week as the industry designation for products and networks that support the next generation of Wi-Fi, based on 802.11ax technology. The generational terminology may also be used to designate previous Wi-Fi generations, such as 802.11n or 802.11ac. The numerical sequence includes the following:
Wi-Fi 6 to identify devices that support 802.11ax technology;
Wi-Fi 5 to identify devices that support 802.11ac technology; and
Wi-Fi 4 to identify devices that support 802.11n technology.
Product vendors can use the new generation names to identify the latest Wi-Fi technology a device supports. OS vendors can also use the numerical system to identify the generation of Wi-Fi connection between a device and network. Service providers can use the new names to identify the capabilities of a Wi-Fi network to their customers.
In a Wi-Fi Alliance statement, many vendors backed the new naming system. Vendors that voiced their support included Aerohive Networks, Aruba and Broadcom.
Aerohive introduces network and client analysis tools
Cloud networking provider Aerohive Networks introduced this week two machine learning analytics tools: Network 360 and Client 360. Both services use Aerohive's microservices cloud architecture and native machine learning capabilities to collect, process and analyze large amounts of client and network data into simpler IT insights.
Network 360 provides a real-time and historical view of well-known key performance indicators (KPIs) for the network. The service tracks network health and performance using a time-slider that adjusts for day, week and month views of KPIs, including device health, Wi-Fi health and application health.
Aerohive is building out Network 360 via a continuous delivery development model throughout the rest of this year. When completed, it will be available in all of Aerohive's deployment options: public cloud, private cloud and on premises.
Client 360, available now in all deployment options, monitors real-time and historical client performance. The service also uses a time-slider to adjust for the day, week and month for tracking client usage and health when the client was connected to the network.
Client 360 also offers session and aggregate views of client location and experience, including where the client sent and received the most data and where the client spent the most time when connected to the network. Client trail is also tracked as the client roams across the network with corresponding roaming and network services health. Through machine learning capabilities, the service can compare and measure individual client experiences against expected behavior.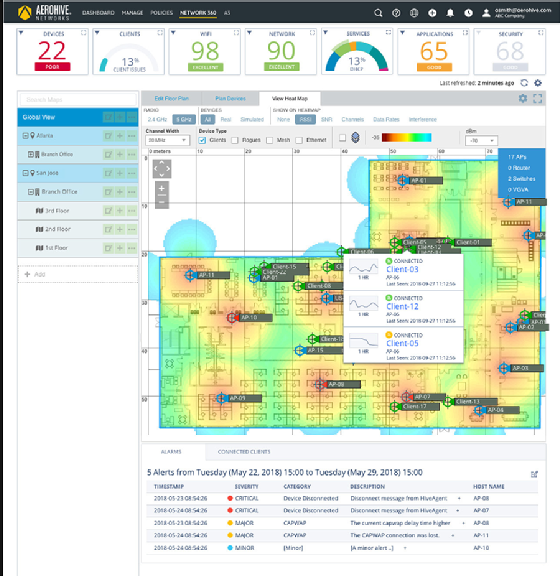 Viavi unveils end-user network scoring feature
Viavi Solutions Inc., a provider of network performance monitoring tools, based in San Jose, Calif., has updated its Observer platform. The latest release, Observer 17.5, replaces detailed KPIs -- provided to network engineers -- with a single End-User Experience Score. The new feature is focused on end-user outcomes to assist with troubleshooting processes used by network teams.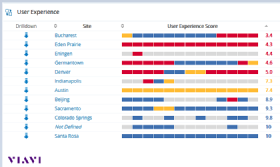 The scoring system describes network and application performance from the end-user perspective as a single numeric value, along with problem descriptions and performance visualizations. Adaptive machine learning, running hundreds of data sets through an algorithm, creates the user score for any transaction. The tool helps network engineers investigate network issues and provide filtered wire-data evidence to IT teams, Viavi said in a statement.
According to Forrester Research, one-third of end-user complaints remain unsolved for more than a month or are never resolved.
The Observer platform has provided full-fidelity forensics for investigations with interfaces for 10 Gb and 40 Gb. The latest platform release now includes 100 Gb interface support.
Dig Deeper on Network Infrastructure