Fotolia
802.11ax standard promises tectonic shift in wireless
It's shiny, bright and new -- and, like 'Anchorman' Ron Burgundy, kind of a big deal. Here's why networking experts say high-efficiency 802.11ax Wi-Fi actually lives up to the hype.
Longtime wireless LAN pros -- seasoned by years of relentless and frequently unfounded industry hype -- tend to...
Continue Reading This Article
Enjoy this article as well as all of our content, including E-Guides, news, tips and more.
approach the latest shiny new object with a healthy degree of skepticism. So, when network engineer Lee Badman recently asked his Twitter followers for their thoughts on the pending 802.11ax standard, the answers included more than a few digital eye-rolls.
"The hype hasn't even left the gate yet. Wait until it gets wound up," commented Devin Akin, founder and principal Wi-Fi architect of Divergent Dynamics, a Wi-Fi consulting and training firm in Carrollton, Ga. "Can't you hear it now, 'it's like a switch!' and '5 Gbps [access points]! (With dual 2.5G ports),' and 'No more surveys!' and 'heals cancer!' ... blah, blah, blah. #AmIWrong?"
And yet, the proposed 802.11ax standard -- currently in development at the Institute of Electrical and Electronics Engineers (IEEE) -- undoubtedly has wireless experts' attention. Many, including Akin, have expressed particular interest in a high-efficiency feature called orthogonal frequency-division multiple access (OFDMA).
According to analyst Zeus Kerravala, founder and principal analyst of ZK Research in Westminster, Mass., OFDMA -- a variation on orthogonal frequency-division multiplexing -- helps make 802.11ax the first "fundamentally different" Wi-Fi standard in networking history.
To understand its functionality, Kerravala suggested imagining network clients as grocery-store shoppers and wireless access points as cashiers. Previous wireless upgrades addressed congestion issues by speeding up checkout transactions, with the line for an 802.11n register moving faster than the queue for an 802.11g device. The basic connectivity model stayed more or less consistent, though, with the same single-file lines for service.
Then, there's .11ax.
"If someone in front of you pauses to pull out a checkbook, the cashier can start ringing your stuff up right then and there, then go back to that person," Kerravala said.
In other words, instead of sitting idle during a dead spot in transmission, an 802.11ax access point can skip to another client's request. Kerravala said he expects that extra efficiency to provide better Wi-Fi connectivity for users and improve the battery life of their devices.
Brave new 'high-efficiency' wireless
In a world where end users increasingly carry two or three devices apiece -- and expect reliable, ubiquitous Wi-Fi connectivity as a rule, not an exception -- independent analyst John Fruehe said he believes the 802.11ax standard will ultimately transform wireless networking.
"It's a big deal," he said.
As a top use case, Fruehe cited high-density environments prone to intense bursts of user activity, such as event venues, hotels and schools. Picture Gillette Stadium during a Patriots game, for example, with fans uploading and downloading tens of thousands of social media posts, text messages, photos, videos and more.
"Those are the places you'll see [802.11ax] become most valuable," Fruehe predicted. "It will be a no-brainer for them to make the jump."
One vendor, Aerohive Networks, started shipping 802.11ax access points in July 2018, reporting particular interest from customers in the education vertical. The company counts at least two academic institutions among its initial buyers -- the University of North Georgia in Dahlonega, Ga., and Wellington College in the United Kingdom.
"Some schools are just starting with .11ax in areas where they have the most density, like auditoriums and cafeterias," said Perry Correll, product management director at Aerohive, based in Milpitas, Calif.
Kerravala said the .11ax specification will also be the first Wi-Fi standard to break the Gigabit barrier -- outside of perfect, vacuum-like conditions. The increased speed has implications for the wired network, as plugging .11ax access points into a switch in which each port has a maximum capacity of 1 Gb each would create a bottleneck.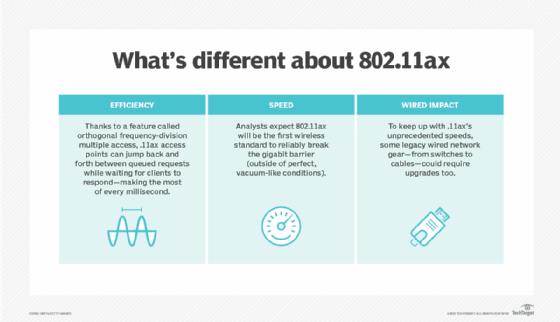 "If you're going to do [802.11ax], then you do need to upgrade your wired network ... at least where you're likely to have congestion issues," Kerravala said. "And if you're upgrading your wired network today, you need to think about it in terms of the next generation of Wi-Fi, which means multigig."
Necessary upgrades might also include network cabling, Kerravala added -- such as replacing any legacy CAT5 cables, which can't handle next-generation speeds.
Timing is everything
Fruehe said he considers the current draft of the proposed 802.11ax standard stable enough for early adoption, but added he'd pay a premium to get .11ax today only to solve a specific problem, such as overrun access points in a high-density environment.
He also cautioned that despite the promise of 802.11ax standard, it will progress from draft status to widespread adoption like "a slow train."
Kerravala agreed, predicting network managers won't see many .11ax-capable devices until late 2019 or early 2020 -- and lacking clients, benefits of an upgrade will remain minimal.
I think we have a six-month-to-a-year window for planning, which is good, because this is such a different type of Wi-Fi.

Zeus Kerravalafounder and principal analyst at ZK Research
"If you absolutely need to upgrade your Wi-Fi -- if it's hurting the business -- then, by all means, upgrade," he said. "But I think we're close enough now to having the standard ratified that I'd probably wait a couple of months."
The Wi-Fi Alliance expects to start its certification program for 802.11ax, which it recently dubbed Wi-Fi 6, in 2019. In the meantime, Kerravala urged networking teams to conduct site surveys ahead of .11ax adoption. Because the new standard has different signal strengths and coverage patterns, using beam-forming technology instead of the traditional cellular approach, an upgrade will require more planning than simply swapping out existing access points.
"I also advise thinking about Wi-Fi in the broader context of 'wireless everywhere,'" Kerravala said, pointing out that most organizations now have reliable coverage in main areas, but often have dead zones in transitional spaces, like lobbies, hallways and elevators, or between buildings.
The IEEE working group in charge of developing .11ax recently voted to pass Draft 3.0, after two earlier versions failed to muster the necessary 75% approval. At its November meeting, the group plans to initiate a process called Mandatory Draft Review (MDR) -- one of the final steps before it sends the proposal to the Standards Board. According to IEEE procedural guidelines, MDR indicates a working group views a standard as "almost done" and in need of no significant changes.
A working timeline on the group's website suggests it will review the fifth and final draft of the 802.11ax standard in March 2019.
"I think we have a six-month-to-a-year window for planning, which is good, because this is such a different type of Wi-Fi," Kerravala said. "And it does have implications for the wired network, which other Wi-Fi standards didn't."
This was last published in
October 2018