Definition
Wi-Fi 6 (802.11ax)
Wi-Fi 6, also known as 802.11ax, is the latest generation and standard for wireless internet that replaces the 802.11ac, or Wi-Fi 5, standard. Prior to the release of Wi-Fi 6, Wi-Fi standards were identified by version numbers ranging from 802.11b to 802.11ac. However, the Wi-Fi Alliance decided to rename the past standards with the latest iteration with user-friendly conventions to help decrease confusion and identify compatibility between devices. Wi-Fi 6 combines high speed gigabit Ethernet wireless with the reliability of licensed radio.
Wi-Fi 6 provides the same basic functionality to its users as its predecessors but with new improvements in capacity, coverage and performance. Using advanced technology like orthogonal frequency-division multiple access (OFDMA), Wi-Fi 6 offers lower latency and more efficient data transfer. It also takes advantage of beamforming, multiple-user MIMO and battery saving techniques to deliver a better experience. These updates make Wi-Fi 6 perfect for 5G, IoT and smart home implementations of the future.
Most Wi-Fi 6 enabled devices will not be available to consumers until 2020. Once on the market, these devices will display the Wi-Fi standard number on the packaging. The Wi-Fi Alliance is also pushing to label wireless networks with the standard number so users can tell which networks are newer and faster before connecting.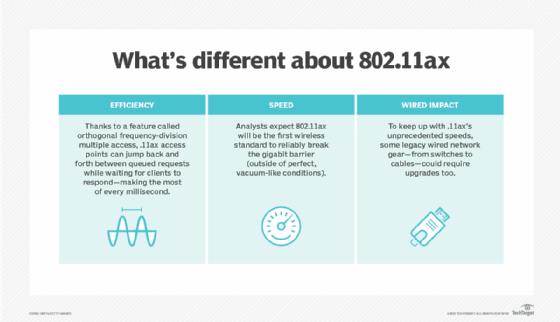 Version numbers and naming system
While Wi-Fi 6 is the first standard with a generational naming standard at the time of its release, the Wi-Fi Alliance renamed all existing standards similarly. Renamed Wi-Fi standards by year:
Wi-Fi 1: 11b (1999)
Wi-Fi 2: 11a (1999)
Wi-Fi 3: 11g (2003)
Wi-Fi 4: 11n (2009)
Wi-Fi 5: 11ac (2014)
Wi-Fi 6: 802.11ax (2019)
In addition to being easier for consumers to read and easier for providers to describe, the newer naming convention makes it easier for consumers to understand which standards are recent and replace a previous version with improvements. All Wi-Fi versions are able to work together, although most versions from before 2009 are deprecated.
Advantages of Wi-Fi 6
Faster data transfer and larger data capacity.
Improved power efficiency and longer battery life with better control of sleep modes, called target wake time (TWT).
Wireless signals can be broken into a greater number of subchannels, decreasing performance issues in crowded places like airports or concert venues.
Less interference with other devices, like baby monitors and cordless landline phones.
Shorter or eliminated delay times.
Fewer dead zones due to expanded beamforming capabilities.
Improved connection quality.
More seamless mobile roaming.
Better at handling advanced applications such as 4K or 8K video.
This was last updated in
March 2019
Continue Reading About Wi-Fi 6 (802.11ax)