Aruba 802.11ax APs, switches address niche market
Aruba has launched access points and switches aimed at early adopters of the next-generation Wi-Fi standard. The Aruba 802.11ax gear is aimed at colleges, retailers and hotels.
Aruba Networks, a Hewlett Packard Enterprise company, has introduced access points and switches that support the unratified next-generation Wi-Fi standard, giving the vendor an early start in what's likely to be a niche market for the near future.
Aruba launched this week the 510 Series access point (AP) and the 2930M Series access switch, both aimed at early adopters of 802.11ax, which the Institute of Electrical and Electronics Engineers (IEEE) is scheduled to ratify in the second half of next year. A significant advancement in the standard, also called Wi-Fi 6, is a considerable increase in the number of wireless devices an AP can support.
Because the industry expects the IEEE to approve the specification in its current form, the time is right for vendors to get products in front of potential customers, said Mark Hung, an analyst at Gartner. In the case of Aruba 802.11ax gear, the new AP -- based on its data sheet -- has the capabilities a company would expect from an 802.11ax device.
"It checks all the boxes," Hung said. "It looks like a pretty complete solution."
Aruba's latest AP has maximum data rates of 4.8 Gbps and 575 Mbps in the 5 GHz and 2.4 GHz band, respectively. The vendor is aiming the midrange devices at colleges, retail branches, hotels and enterprise offices.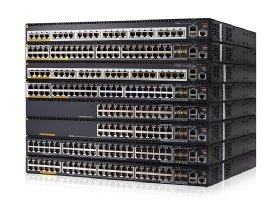 Many of those organizations are adequately served by the current Wave 2 802.11ac standard, which delivers roughly the same data rates as Aruba's APs, Hung said. Therefore, potential buyers are likely to be the exceptions -- businesses with an unusually high number of devices accessing the Wi-Fi network at once.
Like other 802.11ax devices, the 510 Series takes advantage of the standard's high-efficiency feature, called orthogonal frequency-division multiple access. OFDMA lets the AP partition a channel within a band into subchannels, each of which can serve a device simultaneously.
Aruba 802.11ax access switch
For traditional enterprises -- your typical carpeted-office scenario -- adoption of .11ax may be slower than past generations of Wi-Fi.

Mark Hunganalyst, Gartner
Supporting many more devices means more power usage by 802.11ax APs. Aruba's 2930M access switch meets that requirement by providing up to 60 watts of Power over Ethernet per port. Also, Aruba has designed the hardware to work with its new APs on existing campus cabling, such as CAT5e and CAT6.
Network managers can reduce the power consumption of an Aruba Wi-Fi network through the company's cloud-based analytics software, called NetInsight. For example, they can configure the APs to switch to sleep mode when there are no longer any devices trying to connect to the network.
Aruba is not the only vendor offering 802.11ax gear. Aerohive Networks started shipping APs supporting the standard in July. Its initial buyers include the University of North Georgia in Dahlonega, Ga., and Wellington College in the United Kingdom.
Nevertheless, experts expect the adoption of 802.11ax to ramp slowly because of the expense of switching to the new technology, which in many cases could require new cabling, as well as switches and APs.
"The high-density use cases, like sports arenas, airports and schools, are probably going to be the early adopters," Hung said. "For traditional enterprises -- your typical carpeted-office scenario -- adoption of .11ax may be slower than past generations of Wi-Fi."
Dig Deeper on Network Infrastructure