Itential's network automation software wins TechTarget award
At the ONUG Fall 2019 conference in New York, one word was on everyone's lips: automation. Itential's infrastructure-as-code platform helps turn those four syllables into action.
Multi-domain network automation software from Atlanta-based startup Itential has landed TechTarget's Network Innovation Award, which highlights new and noteworthy technology, products and services in computer networking. Itential's vendor-agnostic Automation Platform enables a unified infrastructure-as-code model -- integrating diverse systems, applications and tools and supporting organizations in their transition from command-line interface to programmable networking.
SearchNetworking spoke with Itential CTO and co-founder Chris Wade at the ONUG Fall 2019 conference -- where the organization gave a proof-of-concept demonstration -- to learn more about the startup's network automation software and how it works.
Editor's note: This interview has been lightly edited for length and clarity.
What high-level problem did Itential set out to address?
Chris Wade: The world is moving from human-centric, CLI [command-line interface]-based networks to machine-centric, programmable networks. We build network automation software that enables people to adopt those next-generation technologies.
How does the technology work?
Wade: There are a few pieces. First, there is our integration framework. Integrations with external, third-party systems and internal networking tools have historically been very complex and labor-intensive, but with modern programmable infrastructure, we can automate the process. With our technology, you put in an open API spec or Swagger spec, and it auto generates REST-based adapter APIs so you can integrate all the applications, systems and tools in your IT ecosystem. Our intent-based framework then lets you build abstractions on top of those APIs to enable multi-domain automation.
So, the next question is: 'How do I allow my network team and my application developers to make changes to the network in a programmable way?' Network engineers are used to managing configuration, service lifecycle and policy activities. So, we built a user interface with a suite of modular management applications to automate those tasks. This allows them to continue to do their jobs in a way they're comfortable with -- but in a programmable way, without all the typical manually intensive, maintenance window types of activity.
Finally, the platform's Automation Studio takes in all the integration and application logic and enables true end-to-end automation -- coordinating the service management layer, CRM stuff, resource IP addresses, telemetry systems and so forth.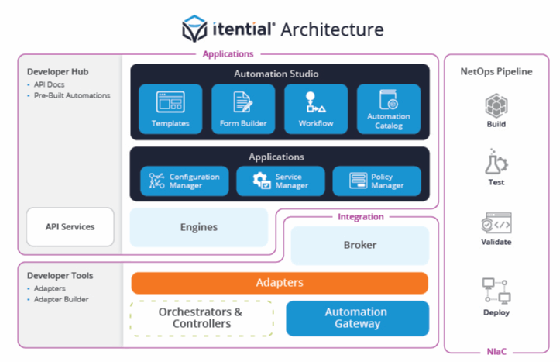 Where do you think we are as an industry when it comes to network automation software's adoption in the real world?
Wade: We think we're at the inflection point. Two or three years ago, I would need to start conversations with prospective customers by explaining what automation is and what the benefits are. Now, they're not asking, 'Why should we automate it?' The assumption is they're going to automate it -- the question is: 'How can you support our automation strategy?'
It's not just about moving a human process into software; it's about making that process better.

Chris WadeCo-founder and CTO, Itential
So, we think now's the time -- we've started seeing widespread adoption in the last two years.
Speaking of customers, who are your users?
Wade: Our earliest customers were large service providers -- they were the first to embrace network automation and programmability. Then, we started working with Fortune 100 financial services organizations, which, like service providers, have very complex networks. And, today, we're seeing broad-based adoption. Enterprises and service providers alike are looking at how to automate networks with existing, traditional network management tools. Then, they're saying, 'Now, how do I do my job on this new infrastructure?' Today, we work with six of the 10 largest service providers in the world, three of the top financial companies and the U.S. military.
What does initial deployment of Itential's network automation software look like?
Wade: A lot of customers focus on an initial use case, like software upgrades, configuration and compliance, branch turnups or adoption of a new controller/orchestrator. Many times, we just take a manual process and put it in software. And, suddenly, the customer no longer has to make that network change during an hour-and-a-half window in the middle of the night -- they can do things differently.
It's not just about moving a human process into software; it's about making that process better. Once customers understand that, the number of use cases accelerates. First, we have to increase confidence and trust in the technology, and then they start making more robust changes.