momius - Fotolia
Open source networking projects unite under Linux Foundation
The Linux Foundation created an umbrella platform, the LF Networking Fund, to promote cross-project collaboration among open source networking projects under its wing.
The Linux Foundation this week announced the formation of the LF Networking Fund, or LFN, an initiative to combine the multiple open source networking projects currently under its supervision.
Host to many of the top open source networking projects, The Linux Foundation said it was time to streamline how it oversees its various ventures, said Arpit Joshipura, general manager of networking and orchestration at The Linux Foundation.
The six founding open source projects involved in the LFN are FD.io, OpenDaylight, Open Network Automation Platform (ONAP), Open Platform for NFV (OPNFV), PDNA and Streaming Network Analytics System. An additional 83 member organizations are participating in LFN. Members of The Linux Foundation can choose whether they want to join LFN, and they can participate in as many or as few of the projects as they want.
The open source networking projects will remain technically independent, maintaining their existing charters and working toward their individual releases -- all of which are still on schedule, according to Joshipura. But the projects will be under a single governing board and will share financial resources and staff, he said.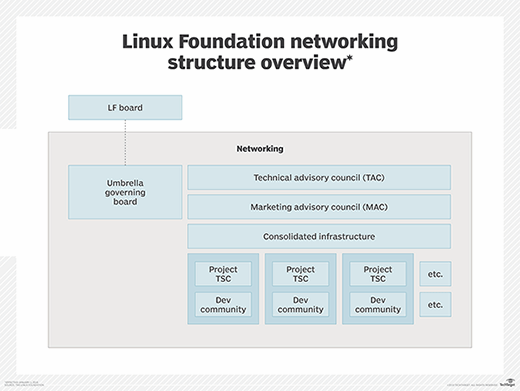 The governing board will comprise chosen representatives from platinum, gold and silver members of The Linux Foundation. LFN also includes a technical advisory council (TAC) and marketing advisory council (MAC), with individual member representatives. The board and councils will allow LFN members to share project development, testing, deployment and architecture integration best practices, in addition to the regulations across projects.
"The finance, budgets, prioritization and strategy are functions of the governing board, with input from the TAC and the MAC," Joshipura said. So, if a project requests additional money for testing or is ready for a project release, for example, it goes to the advisory councils with the requests, he added.
Another issue LFN hopes to address is that of onboarding virtual network functions (VNFs). Instead of having inconsistent processes for VNF onboarding, LFN will work toward a single architecture and process to support that effort, Joshipura said.
"We don't want ONAP to do it one way and OPNFV to do it another way," he said. "Now, it's one way to do it across projects."
The LF Networking Fund still business as usual
While the idea of cross-project collaboration has merit, Joshipura said LFN faces some challenges. One such challenge is simplifying the process to allow developers to join the projects.
"It [includes] a lot more education," he said. "People do want to participate in other projects, but they're not familiar with them. So, we want to make sure we bring the training from one project to another project."
Lee Doyle, principal analyst at Doyle Research, said another issue that could trip up the initiative is the fact that The Linux Foundation is still a business -- and all of these open source networking projects will still compete with each other.
"The Linux Foundation isn't altruistic," Doyle said. "It's a business. People are still going to fight for resources and sponsors."
While Joshipura stressed that the formal legal system outlined within LFN will make discussions and decisions simpler, Doyle said it still means a bunch of meetings.
It's a laudable goal, he said, but any progress within the LF Networking Fund will take time.