pixel_dreams - Fotolia
Cryptomining, ransomware are top malware in 2017
Check Point issues new top malware research that finds cryptomining, mobile attacks and ransomware growth in second half of 2017.
Cryptomining, using tools to hijack a user's CPU to mine cryptocurrency; ransomware and mobile malware continued to plague enterprises in 2017, according to a top malware report issued by Check Point Software Technologies Ltd.
The report, which investigated the top security issues facing enterprises in the last half of the year, said 20% of organizations were infected by cryptomining malware that in some cases can diminish CPU processing by more than half.
Check Point, based in San Carlos, Calif., also said in its top malware report that attack vectors shifted during the last half of the year, with infections based on the Simple Mail Transfer Protocol eclipsing those on HTTP. The increase -- from 55% during the first half of 2017 to 62% after July -- reflected the number of skilled hackers targeting vulnerabilities in documents, particularly Microsoft Office.
Mobile attacks, meantime, became more nefarious. The Check Point top malware study found that enterprises are now becoming vulnerable to threats either launched by mobile devices or through mobile malware such as Switcher.
"The second half of 2017 has seen cryptominers take the world by storm to become a favorite monetizing attack vector," said Maya Horowitz, Check Point's threat intelligence group manager, in a statement. "While this is not an entirely new malware type, the increasing popularity and value of cryptocurrency has led to a significant increase in the distribution of crypto-mining malware. It's clear that there is still a lot that organizations need to do to fully protect themselves against attacks."
Check Point based its second-half top malware report on its ThreatCloud intelligence service, which holds more than 250 million addresses analyzed for bot discovery and 11 million malware signatures.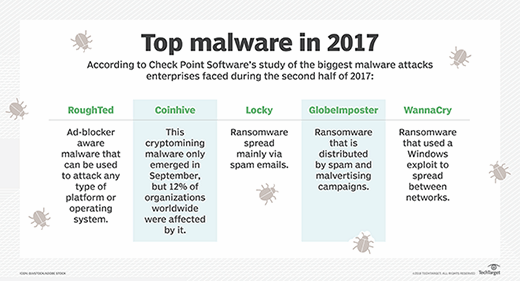 Broadcom releases SDK for ASICs
Broadcom Ltd. issued an open source software development kit, or SDK, to enable developers to customize their use of Tomahawk switch silicon in their operations.
The first version of the kit, dubbed SDKLT, is based on the BCM56960 Tomahawk switch, used within top-of-rack switches and fabric designs. The open source code is downloadable from GitHub, with the associated logical table APIs available through an Apache 2.0 license, Broadcom said.
The SDKLT uses a logical table approach to simplify how developers add features to the switch silicon. All device physical resources, such as media access control address tables, Layer 3 route tables and other functions, are presented within logical tables instead of proprietary function calls, Broadcom said.
"The SDKLT brings a fresh, state-of-the-art software development approach to the broader community of network software developers where they can now fully and directly control and monitor the rich switch feature set optimized for SDN and cloud use cases," said Ram Velaga, Broadcom's senior vice president and general manager of switching products, in a statement.
Broadcom's move follows a similar initiative by Barefoot Networks, which in 2016 released Tofino, a family of switches that can be customized through P4, an open source consortium with more than 60 members.
F5 launches training for app development
F5 Networks has introduced a new training program aimed at speeding up the time it now takes for enterprises to ramp up new applications and services.
The initiative, called Super-NetOps, is focused on enabling engineers and developers to deliver applications through a service model rather than a traditional, ticket-driven approach, Seattle-based F5 said.
By standardizing critical application services and basing how they're developed through automated toolchains, F5 said applications can go live within minutes.
"Super-NetOps will help network operations professionals build on their decades of experience deploying, managing, maintaining, and securing applications and equip them to deliver the automation and agility needed by DevOps teams," said Kara Sprague, F5's senior vice president and general manager, in a statement.
The online course, which is free, will debut with two modules covering DevOps methodologies and the concepts of automation, orchestration and infrastructure as code. Future modules will include training about agile methodologies, application language frameworks and how to deploy third-party automation toolchains.
Dig Deeper on Cloud and data center networking