WavebreakMediaMicro - Fotolia
Juniper battles Cisco, VMware with Contrail cloud tools
Juniper plans to release the first iteration of its Contrail cloud tools in June. Contrail Enterprise Multicloud will compete in cloud networking with Cisco ACI and VMware NSX.
Juniper Networks plans to release in June its software-based system for managing a virtualized network fabric that...
Continue Reading This Article
Enjoy this article as well as all of our content, including E-Guides, news, tips and more.
spans multiple clouds. Called the Contrail Enterprise Multicloud, the technology is Juniper's competitive response to Cisco's Application Centric Infrastructure and VMware's NSX.
Juniper said this week it would release the Contrail cloud software in phases. The first release would manage fabrics of Juniper QFX series switches. The second phase, scheduled for release in the third quarter, would provide the multi-cloud capabilities.
Juniper first introduced Contrail Enterprise Multicloud in December at its NXTWORK conference in San Francisco. The software manages networking policies that control traffic flows between applications running on the data center and public and private clouds. For policy monitoring and network analytics, the system uses Juniper's AppFormix product.
A core component of Contrail Enterprise Multicloud is Contrail Networking, which is the software that creates the virtualized network overlays used to deliver routing and application security and load balancing. Contrail Enterprise Multicloud removes from Contrail Networking the complexity of cross-cloud networking, said Brad Casemore, an analyst at IDC.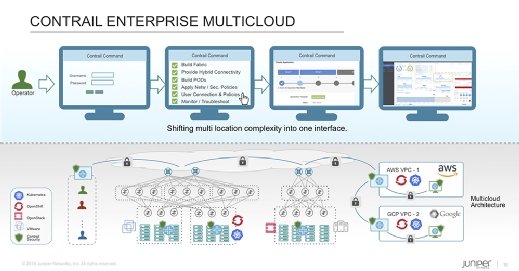 Hiding complexity with Contrail cloud tools
Contrail Enterprise Multicloud simplifies networking through its Contrail Command console. Companies, for example, can use the software's graphical user interface to request workload-to-workload connectivity without knowing the underlying components, like ports, switches, routers and subnets.
AppFormix reduces complexity further by providing intelligence on the different cloud infrastructures and the overlay services running across them. The information is useful for planning and diagnostics.
Casemore expects Juniper to eventually create a single Contrail-based software console that unifies data center, cloud and branch networks. "They're looking at extending this over the WAN," he said.
Juniper Contrail cloud versus Cisco, VMware
Piling as much networking as possible into a single management console is also Cisco's strategy. So, to differentiate itself, Juniper is positioning its product as more open than Cisco's Application Centric Infrastructure (ACI).
ACI requires the use of at least some Cisco switches. Contrail Enterprise Multicloud, on the other hand, supports Juniper, Arista and Cisco hardware.
"Our goal is to make it easy to insert things like multivendor support both at the [network] overlay and underlay," said Mike Bushong, vice president of enterprise cloud marketing at Juniper.
Against VMware, Juniper's advantage is in managing virtual and physical networks, Bushong said. As a virtualization company, VMware's focus is solely on the network overlay.
"They're not doing anything with the underlay, primarily because they don't own the underlay," Bushong said.
It's one thing to put up PowerPoints; it's another to deliver the goods.

Brad Casemoreanalyst, IDC
Nevertheless, Juniper also has its disadvantages. Because it has a much smaller presence in enterprise data centers, the company faces the difficult task of convincing potential customers to choose them over an incumbent.
Ultimately, the success of the vendors will come down to execution on their strategies, Casemore said. "It's one thing to put up PowerPoints; it's another to deliver the goods."
Cisco, Juniper and VMware are pursuing the growing number of enterprises running applications on private clouds and the infrastructure of public cloud providers, such as Amazon, Google and Microsoft.
Last year, the amount of money spent globally on servers, storage and Ethernet switches for deployment in cloud environments reached $46.5 billion, an increase of nearly 21% from the previous year, according to IDC. At the same time, spending on traditional, non-cloud IT infrastructure declined almost 3%.
Dig Deeper on Cloud and data center networking