chris - Fotolia
Tempered Networks extends reach of NAC software
Tempered Networks has extended the reach of its network access control technology. The company has introduced NAC software for IoT, Google Cloud and Microsoft Azure.
Tempered Networks, a maker of network access control for a wide variety of devices, has extended its technology...
Continue Reading This Article
Enjoy this article as well as all of our content, including E-Guides, news, tips and more.
to Microsoft Azure, Google Cloud, Linux servers and additional IoT endpoints.
Tempered, which introduced the latest enhancements this week, has developed NAC software based on the Host Identity Protocol (HIP), a technology developed by a working group within the Internet Engineering Task Force. A HIP network replaces all IP addresses with cryptographic host identifiers that are resistant to denial-of-service and man-in-the-middle attacks.
Tempered has created a HIP wrapper that lets customers manage large numbers of devices through a product the vendor calls a HIPswitch . The technology creates a private overlay network to control what specific endpoints can access. The product can protect corporate, industrial and IoT systems.
What's new
The latest improvements to the Tempered product portfolio includes a version of HIPswitch for Microsoft Azure and one for Google Cloud. The virtual appliance serves as an identity gateway for endpoints trying to access data, workloads and containers in the public clouds. The NAC software had only been available for AWS.
Also new is the HIPserver for Linux. HIPserver , which was available only for Windows, acts as a server's overlay network gateway. The software, combined with a firewall, can cloak workloads, so they are not visible to hackers. The technology also ensures that network connections are authenticated before establishing a TCP session. HIPserver supports all major Linux distributions, whether they are running in a public cloud, on premises or a remote site .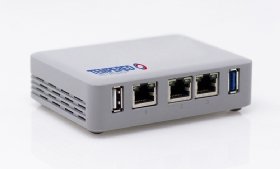 Another technology added to the Tempered portfolio is the HIPswitch 75 appliance, a palm-sized IoT edge gateway designed as "plug-and-play" hardware for medical devices, point-of-sale systems and building automation controls. HIPswitch ensures that access policies are enforced for the attached systems.
Finally, Tempered introduced a product called HIPclient , which runs on Windows, Mac and iOS devices. The NAC software ensures clients only access authorized network resources.
The complete Tempered platform includes central software the vendor calls the conductor, which is akin to a software-defined networking controller. Customers use the product's user interface to whitelist everything attached to HIPswitches and to set access policies for each endpoint or groups of them. Policy routing across the identity network is handled through technology Tempered calls the HIPrelay .
Tempered sells its products via annual subscription, based on the number of products deployed. Fees for HIPswitch for cloud start at $660, HIPserver for Linux, $54 per server; and HIPclient , $30 per client.