WavebreakmediaMicro - Fotolia
UNH InterOperability Lab expands IPv6 testing amid SDN growth
UNH-IOL updated its IPv6 testing program to comply with newly released regulations for network devices procured by government agencies, adding SDN and IoT support along the way.
The University of New Hampshire InterOperability Lab updated its IPv6 testing program to comply with new government requirements specified by the National Institute of Standards and Technology. UNH-IOL, a technology testing facility in Durham, N.H., also added support for SDN protocols in its updated program.
The testing program applies specifically to U.S. government agencies, such as NASA, that procure networking equipment and need independent certification that the products meet regulation, according to Timothy Winters, senior IP manager at UNH-IOL. The new requirements come as IPv6 adoption continues to grow globally, as indicated by Google, which said over 20% of its users now have IPv6 addresses, Winters added.
Agencies and product vendors that are UNH-IOL members send devices that need certification to the lab, where UNH students and staff test the products for a month to ensure they support IPv6 and comply.
UNH-IOL tests a range of products, including routers, switches, phones, printers and security cameras. Increasingly, however, agencies and service providers have requested UNH-IOL's help with SDN and IoT devices, Winters said.
"We're encountering more devices we haven't seen," he said. "Some of this is because of IoT, where things are actually being networked and put on a network. They're not sitting on a proprietary link anymore."
IPv6 testing ramps up
As operators and service providers realize IPv4 address space is decreasing, they've started moving to IPv6-only networks, Winters said. This transition caused UNH-IOL to update its IPv6 testing program accordingly.
"UNH-IOL is trying to push that support, so people building applications and services -- or even routers and switches -- can know which things work or don't work in an IPv6-only network," he said. These changes look at the requirements for building, installing and updating applications -- processes that sometimes sound simple, but can actually be quite complicated, he added.
UNH-IOL also patched security loopholes in the IPv6 testing program and made the overall testing more generic, so governments outside the U.S. and other user groups could adopt it, Winters said.
Equipment suppliers have two years to comply with the new IPv6 testing specification. As a result, UNH-IOL will likely see 200 to 300 devices return to the lab to undergo the updated testing, according to Winters.
"I'm sure there are companies that have made some products legacy or don't sell them anymore, so those won't come back in," Winters said. "But that's a challenge: We have to get everybody back through the program."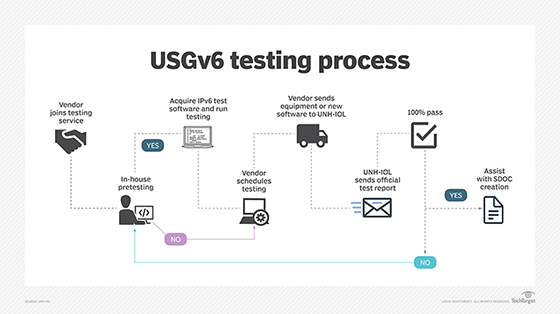 IPv6 complements SDN
For us, the exciting part is getting students involved in learning a technology like this. It gives students the ability to build tools, see devices and test them.

Timothy Winterssenior IP manager, UNH-IOL
Additionally, he said the lab now regularly receives routers without a command-line interface to test. This change comes as more service providers and equipment providers find value in SDN -- and discover how IPv6 complements SDN deployments, Winters said.
"For SDN, the ability to address multiple services is helpful when you're trying to get into networks that are so complex they have to be programmed," he said. Service providers, for example, can use IPv6, along with disaggregation, network slicing and segment routing. The IPv6 address helps identify to which service any particular packet is going.
Along with the other testing updates, UNH-IOL added support for SDN protocols, such as NETCONF and YANG, as well as specs for IoT capabilities. By doing so, Winters said he hopes the lab will help push IPv6 deployments. And, as another plus, UNH-IOL students tackle "the latest and greatest stuff" in networking.
"For us, the exciting part is getting students involved in learning a technology like this," he said. "It gives students the ability to build tools, see devices and test them."
Dig Deeper on Network Infrastructure