James Thew - Fotolia
Nyansa Voyance gets user collaboration feature
Nyansa Voyance has a new feature that lets companies request the contact information of other users of the Wi-Fi performance monitoring software.
Network analytics company Nyansa has added a customer collaboration tool within the user interface of its software for finding and troubleshooting problems in Wi-Fi.
The vendor announced this week it had added the friending feature to the cloud-based UI of its Nyansa Voyance product. The click-to-friend button complements a feature that lets an enterprise compare its network performance metrics with those of other Voyance users. Nyansa displays only anonymous data.
The latest addition lets companies contact each other directly to share tips on how to improve Wi-Fi performance. Clicking the friend button sends a meeting request to Nyansa, which gets permission from the would-be recipient before sharing its contact information.
Nyansa Voyance uses deep packet inspection and cloud-based analytics to provide network intelligence to customers. Nyansa packages the anonymous results with details on the hardware and software used on the wireless network.
Each package has a number, which a company would use when requesting to meet an organization. Once organizations become friends, their names are attached to all respective information displayed in each other's Voyance UI. However, the companies would have to talk to each other outside of the software.
Business looking for more collaboration in tools
IT operations professionals are warming to collaboration features in their tools, said Shamus McGillicuddy, an analyst at Enterprise Management Associates, based in Boulder, Colo. An EMA survey of 252 network managers found 37% wanted native collaboration features embedded in their tools, while another 37% wanted integration with third-party services, such as Slack.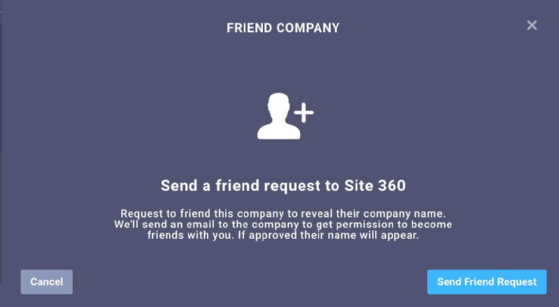 The Nyansa feature is "a cool novelty item that could turn into something useful," McGillicuddy said. If many companies choose to opt in, then Nyansa should add features that build a user community in which customers can do more than compare Voyance-gathered information.
"When you build a strong online community, your customers become your biggest advocates," McGillicuddy said. Other companies that have built successful social networks include SolarWinds, a developer of IT and network management software, and Spiceworks, an online community of IT pros that also offers free management tools.
Nyansa's latest collaboration feature has been most popular among colleges using Voyance, said Anand Srinivas, CTO at Nyansa, based in Palo Alto, Calif. Those organizations have been most willing to talk to another school that is getting better performance out of a similar Wi-Fi system.
However, healthcare organizations are just starting to use the new feature, while corporations haven't shown much interest in it, Srinivas said.