alex_aldo - Fotolia
Remediation engine to improve Nyansa Voyance network monitoring
New remediation engine in Nyansa Voyance flags the cause of network troubles and recommends changes to correct it. Other improvements include more syslog data for better analytics.
Network analytics company Nyansa Inc. has introduced more powerful software that spotlights problems in infrastructure devices and recommends corrective actions to prevent degradation in service.
Nyansa unveiled its "remediation engine" this week as the latest addition to the company's Voyance performance monitor for wired and wireless networks. The Nyansa Voyance system, launched last year, blends cloud-based analytics and real-time deep packet inspection with an easy-to-understand management console.
The new software -- part of a Voyance upgrade -- will flag the cause of trouble and recommend configuration changes to correct it. For example, the application could recommend turning off 2.4GHz radios or changing channel assignments to reduce co-channel interference on wireless access points in a specific area.
The remediation engine also calculates the benefits of the corrective action. In the example above, the software would measure the number of lost client hours avoided through the fix.
More data fed to Nyansa Voyance
Nyansa has increased the number of data sources feeding the Voyance system to improve its analytic capabilities. The latest iteration can ingest syslog data from Cisco's Identity Services Engine, Aruba's ClearPass and the open source network access protocol, FreeRADIUS. The three technologies provide secure access to network resources through authentication, authorization and accounting of devices.
Along with more data coming in, Voyance can send more data out. Nyansa has added RESTful APIs for sending network information to an IT workflow application, such as team messaging service Slack or IT service management system ServiceNow. The latter could, for example, generate a trouble ticket and send it to IT when Voyance finds a device configuration problem.
Being able to reach network managers before there's an outage enables them to become more proactive in solving problems, said Zeus Kerravala, the principal analyst at ZK Research. "IT can be on top of the problem instead of always in reactive mode."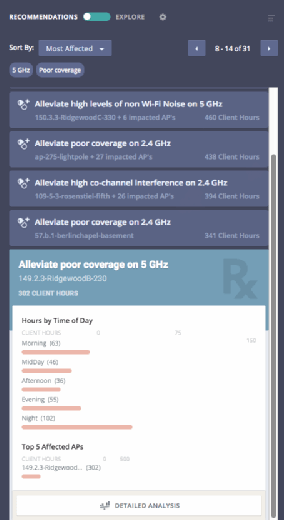 To help improve IT response time further, Nyansa has made it possible for Voyance users to tag mission-critical devices attached to an IP network. The devices could include heart or infusion pumps used in healthcare or robots found on the manufacturing assembly line. Voyance would measure and track every network transaction on the machinery and alert IT workers when performance-damaging events occur.
Nyansa is providing the latest features at no additional cost to Voyance customers, which include Netflix, Tesla Motors and Uber.
The company markets Nyansa Voyance as simplifying network monitoring by replacing the multiple tools IT managers use to determine the network's health. Enterprise Management Associates Inc., a research firm in Boulder, Colo., has found today's IT manager has six to 10 different management tools in use at one time.
Nyansa competitors include NetScout Systems Inc.; Cisco, which offers AppDynamics; and Hewlett Packard Enterprise, which has Aruba IntroSpect.
Next Steps
Setting the performance baseline for network monitoring
Selecting the right network performance monitor
Understanding the differences in top network performance tools