Fotolia
Arrcus chasing larger rivals with 400 GbE NOS
Arrcus has introduced a 400 GbE network operating system, demonstrating a maker of a stand-alone NOS can keep pace with the largest networking companies.
Startup Arrcus has shown that a small network operating system vendor can sometimes keep up with its much larger competitors.
The company announced this week it had made its stand-alone network operating system, ArcOS, ready for use on 400 Gigabit Ethernet (GbE) white box switches powered by Broadcom's StrataXGS Tomahawk 3 chipset.
Celestica and Edgecore are the hardware makers prepared to support the latest ArcOS. Their switches have the option of 32 or 128 ports of 400 GbE or 100 GbE, respectively.
The Arrcus release comes as rivals Arista and Cisco prepare to release 400 GbE switches in the first half of this year. Arista is using the Tomahawk 3 in its proprietary box, while analysts expect Cisco to tap Innovium's Teralynx silicon in two of its four switches. The other two will use Cisco-designed chips.
The three vendors are competing for the wallets of service providers and internet companies, like Microsoft and Facebook, with hyperscale data centers. Conditions driving the need for higher network speeds include the growing number of internet users globally, video streaming, artificial intelligence applications and the introduction of gigabit internet connections to the home.
Based on current traffic trends, Crehan Research predicted 400 GbE will drive the majority of data center Ethernet switching by 2022.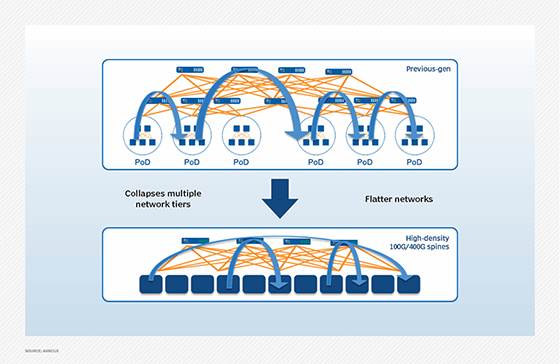 Arrcus' competitive landscape
This is a validation of the fact that disaggregated NOS vendors can advance at a similar pace to leading OEMs in terms of the latest speeds and feeds.

Shamus McGillicuddyanalyst at Enterprise Management Associates
Arrcus competes with small and large networking vendors for the business of companies that want a stand-alone network operating system (NOS). Small competitors with a disaggregated NOS include Big Switch, Cumulus, Pica8 and Pluribus. Arista, Cisco and Juniper Networks also sell stand-alone operating systems, as well as systems of integrated hardware and software.
Arrcus' release of the first 400 GbE white box NOS is "a validation of the fact that disaggregated NOS vendors can advance at a similar pace to leading OEMs in terms of the latest speeds and feeds," said Shamus McGillicuddy, an analyst at Enterprise Management Associates, based in Boulder, Colo. Of course, the success of the NOS makers will depend on the quality of the products from merchant silicon vendors and hardware manufacturers.
Arrcus can respond quickly to market demand because of the microservices-based architecture of its NOS, McGillicuddy said. "They can rewrite those individual components without having to make changes to the core [Linux] platform."
In the latest revision, Arrcus updated what it describes as the "data plane adaptability layer," which governs how the NOS interacts with the hardware platform, McGillicuddy said. ArcOS can run on 1 GbE, 10 GbE, 25 GbE, 40 GbE, 100 GbE and 400 GbE systems.
Arrcus sells only the NOS and depends on other vendors to provide the centralized management console for an ArcOS-based switching fabric. The company has built Yang and OpenConfig data models in the NOS to let orchestration tools, such as Ansible and SaltStack, manage the network, McGillicuddy said.