JNT Visual - Fotolia
Latest Arrcus protocols for webscale data centers
Startup Arrcus has added to its network operating system protocols that could appeal to cloud providers and companies with webscale data centers.
Startup Arrcus has announced plans to add to its network operating system two protocols that cloud service providers and enterprises with webscale data centers could find useful.
The vendor announced this week it would incorporate the Ethernet VPN (EVPN) and the Link State Vector Routing (LSVR) protocols into ArcOS. Arrcus plans to make the latest protocols available in the network operating system (NOS) in July.
Arrcus is adding the new technologies to ArcOS for companies building programmable, multi-tenant routing fabrics on switching platforms that have a combination of 10, 25, 100 or 400 Gigabit Ethernet (GbE). In January, Arrcus announced ArcOS was ready for use on 400 GbE white box switches powered by Broadcom's StrataXGS Tomahawk 3 chipset.
LSVR and EVPN in networking
Engineers typically use EVPN with the Border Gateway Protocol (BGP), which is already in the ArcOS protocol stack, and the Virtual Extensible LAN (VXLAN) encapsulation protocol. VXLAN creates an overlay network on an existing Layer 3 infrastructure.
Developers use the three protocols together to segment the physical network in a multi-tenancy architecture. Network segmentation isolates customers so data and malware can't travel between them.
LSVR is an emerging protocol developed by the IETF for hyperscale data center and cloud providers. It lets the NOS build a routing table that understands network topology and link state simultaneously. As a result, the NOS can direct switches to send packets over the fastest route on the network.
Other protocols, such as Intermediate System to Intermediate System (IS-IS) and Open Shortest Path First (OSPF), can perform the same task. However, they are more difficult to configure and manage than LSVR, said Shamus McGillicuddy, an analyst at Enterprise Management Associates.
"LSVR promises to be easier to work with, so it will appeal to very large data centers where OSPF and IS-IS routing is difficult to scale out," he said.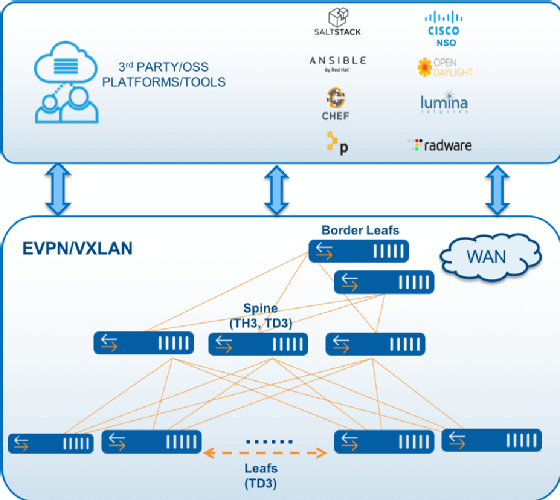 ArcOS in the market
Within ArcOS, EVPN and LSVR will become part of a scalable routing stack designed to cover an entire leaf-and-spine network. The NOS, launched last July, has Debian Open Network Linux at its core.
Arrcus competes with companies like Big Switch Networks and Cumulus Networks for the wallets of companies that want to run a stand-alone NOS on a white box switch powered by merchant silicon.
The majority of those potential customers today are the largest financial institutions, cloud service providers, and internet and telecommunication companies, analysts said. Tackling networking through disaggregated hardware and software typically requires a level of IT sophistication not found in mainstream enterprises.
Dig Deeper on Cloud and data center networking