Pixelbliss - Fotolia
How Cisco 400 GbE switches compare with Arista's
The introduction of Cisco's 400 GbE switches comes a week after Arista unveiled its hardware. The products differ in merchant silicon, optical connectors and backward compatibility.
Cisco has introduced its first 400 GbE switches, setting the company up for a competitive brawl with rivals Arista...
Continue Reading This Article
Enjoy this article as well as all of our content, including E-Guides, news, tips and more.
and Juniper Networks in the hyperscale data center market.
Cisco unveiled Wednesday two Nexus 400 GbE switches that would fit in the data centers of AWS, Google Cloud or Microsoft Azure. The company announced the hardware, called the 3432D and 3408, a week after Arista introduced 400 GbE products for the same market. Juniper has announced plans to ship competitive hardware but hasn't provided specs or a release date.
Cisco also launched two Nexus 400 GbE switches -- the 9316D spine and 9360CD leaf -- for telecommunication providers building cloud computing environments and the largest enterprises. Arista claims its switches can also fit the needs of those companies.
Arista is a strong competitor to Cisco in data center networking, particularly among the largest enterprises and service providers. Arista's annual revenue has grown at double digits for the last several years, some of it at the expense of Cisco.
Among the strategic differences in the Arista and Cisco 400 GbE switches is the silicon. Cisco won't disclose the merchant chip inside its latest switches, but Brad Casemore, an analyst at IDC, said his research shows Innovium's 400 GbE Teralynx silicon is in the new hyperscale hardware -- the Nexus 3432D and 3408.

"All the attributes of the Teralynx Ethernet silicon align with the specifications on the Cisco datasheet," Casemore said.
If Casemore is right, then Cisco would be the first large data center networking vendor to use the Teralynx, which would go up against the Broadcom Tomahawk 3 chip in Arista's 400 GbE switches -- the 7060PX4 and 7060DX4. Both chips move data at 12.8 Tbps.
Cisco likely chose the Teralynx as part of its strategy to offer hyperscalers switches with lower latency and power consumption than those of rivals, Casemore said. "It will be interesting to see whether [Teralynx] confers tangible competitive benefits for Cisco in real-world customer environments."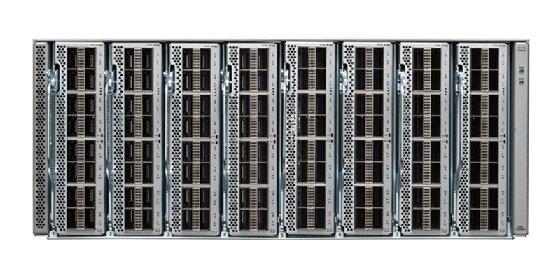 Cisco 400 GbE has backward compatibility
Cisco's hyperscale switches also provide more options than Arista for gradually replacing 10/40 GbE switches with the new 100/400 GbE hardware. Cisco is doing that by offering bidirectional optical modules, which do not require new cabling, said Mike Fratto, an analyst at 451 Research, based in New York.
Arista, on the other hand, packs more 400 GbE ports in a 1RU switch, which is the size of both its switches, Fratto said. Each switch offers either 128 100 GbE ports, 32 400 GbE ports or a mix of the two.
The vendors' products also differ in optical connectors. The Cisco 400 GbE hardware supports only Quad Small Form Factor Pluggable Double Density, or QSFP-DD, while Arista is providing a choice between QSFP-DD and Octal Small Form Factor Pluggable, or OSFP.
"Optics preferences of customers and customer segments will be an interesting subplot," Casemore said.
While providing the connector option, Arista has said it considers OSFP superior to QSFP-DD, but it acknowledges the latter is supported by more network systems.
New Cisco Nexus 9Ks
Cisco's 400 GbE switches for telcos and large enterprises are both 1RU hardware. The 9316D has 16 ports of 400 GbE and the 9360CD has 28 ports of 100 GbE and 8 ports of 400 GbE. Powering the switches is Cisco's Cloud Scale ASIC (application-specific integrated circuit).
The switches support the company's Application Centric Infrastructure (ACI), which lets companies manage a fabric of Nexus 9000 switches through centralized software. The latest hardware also supports Cisco's Tetration application analytics system and the Network Assurance Engine, which finds and fixes performance problems within an ACI fabric.
Collectively, ACI and its supporting software comprise Cisco's intent-based networking initiative, which aims at automating many of the tasks of network managers.
Cisco plans to make its switches generally available in the first half of next year. Arista said it would ship the 7060PX4, which will support OSFP, this quarter and the 7060DX4, which will support QSFP-DD, in the first quarter of next year.
The companies will not be alone in selling 400 GbE switches. In July, Juniper promised it would roll out 400 GbE across its PTX and MX routers and QFX switches over the next 12 months. Also, original design manufacturers, including Accton, Celestica and Mellanox, will offer white box switches running merchant silicon and a choice of network operating system.
Cloud and communications service providers are moving gradually to 400 GbE to support new applications, an increasing number of internet users globally and the introduction of gigabit internet connections to the home.
The demand for faster connections in data centers drove the number of annual 100 GbE port shipments from less than 100,000 in 2015 to 4 million in 2017, according to Crehan Research, headquartered in San Francisco. Based on traffic trends, Crehan predicts 400 GbE will drive the majority of data center Ethernet switching by 2022.
Dig Deeper on Cloud and data center networking