Pixelbliss - Fotolia
Arista EOS containers integrated with Red Hat, Tigera products
Arista EOS containers have been integrated with Red Hat OpenShift and Tigera security software.
Arista has integrated the containerized version of its network operating system with Red Hat and Tigera software to support containers running on public, private and hybrid clouds.
Arista released this week a technology preview of the integration of containerized Arista EOS with Tigera Calico, the open source control plane the company developed to distribute security policy rules across containers and virtual machines running on cloud environments. Arista plans to make the integration generally available in 2019 within the Tigera Secure Enterprise Edition product.
The integration with Red Hat OpenShift, available now, makes containerized Extensible Operating System (cEOS) the network underlay for containers built with the Red Hat integrated development environment. Developers use Red Hat's open source software to develop and deploy Docker-formatted containers. The IDE also includes tools for managing the containers through the open source Kubernetes orchestration platform.
The integrations effectively bring cEOS to the container networking interface (CNI), which lets Arista software automate and orchestrate networking tasks within Kubernetes.
"CEOS for Kubernetes CNI facilitates the integration of the Arista cEOS control plane with Kubernetes policy enforcement," said Brad Casemore, an analyst at IDC.
As a result, Arista customers now have the same EOS code base for routing across most application infrastructures, Casemore said. Besides containers, EOS runs on virtual machines, bare-metal hardware and Arista's proprietary switches.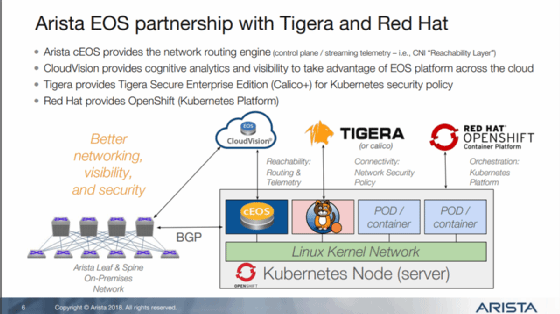 Arista CloudVision
CloudVision is Arista's software console for managing the control plane for cEOS and all other versions of Arista EOS. The product provides change management and provisioning and has an embedded Hadoop database for storing system configuration revisions and EOS releases. CloudVision also stores telemetry from EOS systems to provide customizable trend analysis.
Arista, which introduced its latest technology at the KubeCon conference in Seattle, competes with Cisco and Juniper Networks in cloud and data center networking. In April, Juniper launched Contrail Enterprise Multicloud to manage a network fabric of Juniper physical and virtual switches.
Cisco supports Kubernetes container orchestration in hybrid cloud environments through the Cisco Container Platform. The product extends Cisco's Application Centric Infrastructure, a software-defined networking fabric, into public clouds.