Luiz - Fotolia
Arista CloudEOS addresses multi-cloud networking
Arista joins Cisco, Juniper and VMware in the multi-cloud networking market. The new Arista CloudEOS leverages CloudVision for multi-cloud monitoring, automation and management.
Arista Networks has joined Cisco Systems, Juniper Networks, and VMware in providing connectivity, security and management for enterprise applications running on the largest public cloud platforms.
Arista entered the multi-cloud technology market Tuesday with the unveiling of Arista CloudEOS. The product is a version of Arista's EOS network operating system designed to run on AWS, Google Cloud and Microsoft Azure.
Arista is catching up with the other data center networking vendors. Cisco made its multi-cloud technology push in 2016 with the acquisition of CliQr Technologies Inc., a cloud management platform provider. Since then, Juniper and VMware have also joined the competition.
"You could fault Arista for being a bit late on multi-cloud, at least in relation to announcements and releases by its competitors," IDC analyst Brad Casemore said. "But most enterprise customers are still at the early stage of their multi-cloud journey."
Many enterprises have yet to decide what technology they will use to manage and secure applications running on cloud providers' IaaS platforms. "So, in that respect, Arista is not too late," Casemore said.
Arista CloudEOS
The center of Arista's multi-cloud platform is CloudVision 2019, a cloud network operations platform that provides monitoring, automation and management capabilities. Arista launched the software in September.
Significant features include better data-plane visibility for capacity planning and security baselining. The update also provides predictive analytics to keep virtual networks that connect the data center with cloud providers responsive and available.
CloudEOS comprises two components that work with CloudVision:
The first is an EOS instance that engineers can deploy as a Kubernetes container network interface or as a stand-alone Kubernetes-managed container. The operating system provides the networking stack that delivers services to containerized applications running on the cloud.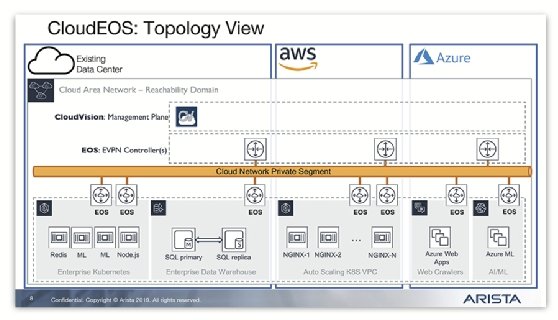 The second component is software running on a virtual machine that stabilizes connections to applications running on a cloud provider or across multiple clouds. The software also enables policy-based provisioning and security through third-party DevOps tools, such as Project Calico and Kubernetes.
The new technology is available on the AWS and Microsoft platforms. Arista plans to add Google Cloud before the end of the year. Companies would buy the products through the cloud providers, which would also handle billing.
In general, Arista and its rivals provide a virtual network overlay that manages traffic and policies for applications running across the private networks of cloud providers. Arista's CloudEOS competes with Cisco's ACI Anywhere, Juniper's Contrail Enterprise Multicloud and VMware's NSX Cloud.
Beyond multi-cloud technology
All the vendors provide "solid capabilities" for cloud connectivity, policy enforcement and segmentation of application traffic, Casemore said. Therefore, without standout products, the suppliers' success will depend on their sales and service operations. Together, they will have to convince current customers to buy into their respective vendor's multi-cloud strategy.
Initially, the vendors are unlikely to have much success stealing each other's customers, Casemore said. "Displacement is always more challenging."
IDC predicts enterprise spending globally on public cloud services will grow more than 22% annually through 2023 when it reaches $500 billion from $229 billion this year. SaaS providers will lead the market, with IaaS providers coming in second.