freshidea - Fotolia
Arista CloudVision 2019 from Arista Networks advances visibility
Arista Networks upgraded its network monitoring and management platform with new features that help automate and improve change management as well as visibility.
Arista Networks is growing its capabilities with the release Tuesday of Arista CloudVision 2019 platform, enabling the network management system with new capabilities that expand network visibility.
CloudVision is the cloud networking vendor's cloud network operations platform, providing monitoring, automation and management capabilities. In the Arista CloudVision 2019 update, Arista added new change control workflow features as well as integration with the open source Ansible configuration management system.
The new release, expected to be generally available next month, also extends the reach of the platform beyond just Arista Networks gear, with a device software development kit that can enable third-party visibility.
The most significant features in the Arista CloudVision 2019 update are the enhanced data-plane visibility, for capacity planning and security baselining, said Brad Casemore, research vice president for datacenter networks at IDC. The new update also provides predictive analytics, which, combined with visibility, can be used by network operators to ensure that the network remains responsive and available.
"Arista has customers who are running Arista gear alongside gear from other vendors, and it's likely they'll leverage CloudVision if it proves capable of addressing visibility requirements in heterogenous environments," Casemore said.
Meanwhile, multi-vendor topology and monitoring will likely not be a primary driver for enterprise IT, but it reduces friction for Arista, said Mike Fratto, an analyst at 451 Research.
Arista has customers who are running Arista gear alongside gear from other vendors, and it's likely they'll leverage CloudVision if it proves capable of addressing visibility requirements in heterogenous environments.

Brad CasemoreAnalyst, IDC
"As a newcomer in campus networking and predominantly a replacement for an incumbent, it operates in a multi-vendor environment so adding support for protocols like SNMP, OpenConfig and gRPC should make multi-vendor visibility and management more likely for the products that supports them," Fratto said.
Simple Network Management Protocol (SNMP), OpenConfig and gRPC are all open standards based approaches that can be used to connect with network equipment. In Fratto's view, the multi-vendor support with these open standards shows that Arista is working to lower friction in brownfield installations -- likely most of the campus deals the vendor is competing for in which it would co-exist with legacy systems -- by being able to visualize third-party gear.
CloudVision 2019 architecture
Arista CloudVision 2019 uses a cloud-native architecture at the core of the platform. The updated platform uses the Kubernetes container orchestration system.
The system also has a full Hbase distributed database, which serves as the CloudVision 2019 data repository. The streaming analytics and data pipelines that come into the platform are powered by a Kafka-based messaging bus.
Arista Networks modeled its telemetry system on what some of its largest customers are using for their own telemetry, said Jeff Raymond, vice president for EOS software and services at Arista Networks.
"So this is not unlike something that a large cloud provider would have built, but what we've tried to do is build it and package it in a way that can be consumed by a broader number of customers in a more turnkey manner," he said.
Arista Cloudvision 2019 features
Among the new features Raymond highlighted is change control, which enables users to create of an automated workflow for applying various types of changes including configuration, patching, upgrading and rollbacks.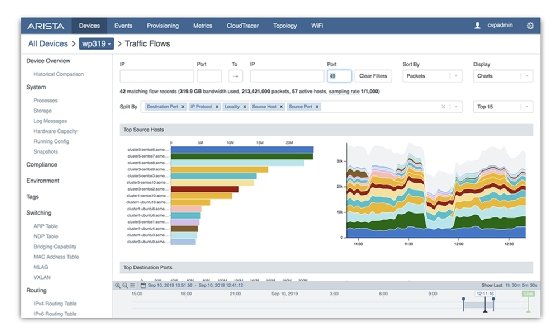 The change control feature is complemented with Ansible integration. Ansible is widely used configuration management technology.
Many network administrators have been using Ansible to have a master configuration profile for various network devices, Raymond noted.
"CloudVision has a model where it assumes it's the single central source of truth for a configuration, but in this case, what we're doing is we're basically letting CloudVision relinquish that role and letting Ansible be the source of truth," Raymond said. "But it still integrates with CloudVision 2019 so that the change control functionality is still available; all the telemetry and analytics are still available."
Overall, a key focus for the Arista CloudVision 2019 update is to enable integrations with the tools and hardware that network administrators are using. The Arista Networks heritage is in the data center and as the vendor expands into multi-cloud and broader enterprise use-cases its goal is for CloudVision to be a foundational management plane to help normalize network operations, Raymond said.
"Historically, vendors would build network management or software stack solutions that were very use case specific," Raymond said. "Our view is that we can break down those silos that are not necessary for the operation of the network, because so much of what networks do can be more uniformly approached and CloudVision is really central to that. "