Scanrail - Fotolia
Facebook unveils data center overhaul at OCP 2019
Facebook's two-year data center overhaul, discussed at OCP 2019, included two new switches: the Facebook-designed Minipack and the 7368X4 developed jointly with Arista.
SAN JOSE, Calif. -- Facebook has overhauled its data center fabric, and Arista Networks has played a significant role at the switching level. This demonstrates the vendor's relationship with the social network remains strong while bolstering its reputation as a supplier to cloud service providers and the largest enterprises.
At the Open Compute Project Global Summit last week, Facebook discussed its latest data center fabric design, called F16, which took two years to develop. Components of the new fabric, unveiled at OCP 2019, included two new switches: the Facebook-designed Minipack and the 7368X4 device that Arista helped develop.
Facebook and Arista have contributed the specifications for the hardware to the OCP, which will make them available as open source technology. Also, Arista will offer the 7368X4 with its network operating system, EOS, or Facebook's NOS, FBOSS.
The joint effort was a first for both companies. In the past, Arista had designed switches alone, and Facebook had used original design manufacturers, such as Edgecore and Celestica, to make its self-designed hardware.
Facebook decided to work with Arista to avoid being solely dependent on Minipack within F16. The company then went a step further and went public with the joint development project with its longtime partner.
As a result, Facebook sent "positive signals to Arista's tier 2 cloud customers, as well as to a subsegment of enterprises involved in e-commerce at scale," said Brad Casemore, an analyst at IDC.
However, as a high-performing fixed or modular switch supporting 100 Gigabit Ethernet and 400 GbE, the 7368X4 won't have much to offer the majority of enterprises, which have much smaller data centers.
"I see it more as helping Arista lock down its installed base," Casemore said.
Switches targeted at multibillion-dollar market
Nevertheless, cloud service providers (CSPs) alone represent a multibillion-dollar market for data center network equipment worldwide. By 2021, CSPs will account for 23% of the total spend on networking, or $12 billion, according to IHS Markit, based in London. Market suppliers that compete with Arista include Cisco and Juniper Networks.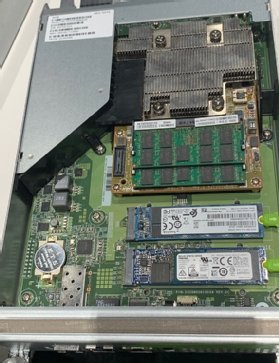 The Minipack, which is similar in throughput as the 7368X4, is also specialty hardware for hyperscale data centers or those just underneath in size. Jeremy Huylebroeck, a cloud architect for French telco Orange, said in an interview at OCP 2019 the hardware's ability to support up to 128 ports of 100 GbE or 32 of 400 GbE made it "too dense" for his employer's data center.
Facebook designed Minipack to support an internet operation that serves 2.6 billion people. "It's unique," Huylebroeck said of Facebook's data center. "We don't have as much traffic in the data center."
The industry with the highest interest in OCP's open source technology is telcos, followed by companies with hyperscale data centers, tier 2 cloud service providers, financial institutions and government agencies, according to a study sponsored by OCP and conducted by IHS Markit.
In 2018, OCP hardware and software accounted for 1.7% of the $149 billion market for servers, storage, networking, rack power and peripherals, IHS found. The research firm expects the percentage to increase to 5.4% in 2022.
Dig Deeper on Cloud and data center networking