CenturionStudio.it - Fotolia
Facebook Minipack joins other advancements at OCP 2019
Facebook launches the power-saving Minipack switching platform, and Arista unveils the 7368X4 for hyperscalers at the OCP 2019 Global Summit.
SAN JOSE, Calif. -- Open networking vendors introduced on Thursday advancements they hope will compete against Cisco and Juniper Networks for the wallets of service providers, SaaS operators and other organizations with data centers that fall below the hyperscale category.
The tech suppliers unveiled the latest hardware and software at the Open Compute Project Global Summit. Vendors attending the OCP 2019 summit are betting that the targeted companies will prefer to buy software and equipment separate from each other, rather than integrated bundles from long-standing network infrastructure providers.
A significant announcement at the conference came from OCP founder Facebook. The social network of more than 2 billion users worldwide introduced a modular switching platform, called Minipack.
Designed by Facebook and built by hardware maker Edgecore Networks, Minipack runs on Broadcom's StrataXGS Tomahawk III chipset and supports a mix of 100 Gigabit Ethernet and 400 GbE interfaces. A Minipack chassis can support up to 128 ports of 100 GbE each or 32 of 400 GbE.
Facebook designed the hardware for its hyperscale facilities. The switch's purpose is to increase data center capacity and bandwidth without increasing the footprint of data center hardware. As a result, Minipack is half the height of its Facebook-designed predecessor, Backpack, and uses half the power.
Cumulus Networks is one of the first open network operating system (NOS) suppliers to announce support for Minipack. Companies can buy Cumulus Linux preinstalled on the hardware directly from the vendor or through Edgecore.
NTT Electronics America will demonstrate a proof of concept of the software-hardware combination at the show, Cumulus said. The company is a sales organization for Chinese electronics maker NTT Electronics.
Arista switch plays nice with Minipack
Meanwhile, Arista introduced at the OCP 2019 summit the 7368X4, a 100 GbE platform that can run the Arista NOS, called EOS, or the Facebook Open Switching System (FBOSS). The flexibility of the 4 RU Arista system makes it possible to run the hardware alongside Minipack.
"Having both an internally developed Minipack and the Arista solution allows Facebook to remain multisourced, with an option to run Arista EOS or FBOSS on both, where either system can be deployed in multiple tiers of networks," Najam Ahmad, vice president for network engineering at Facebook, said in a statement.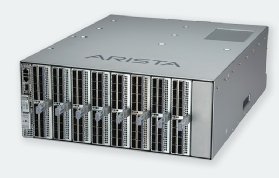 The 7368X4 is the first product in Arista's 7360X Series, which the vendor announced at the summit. Arista is selling the 7368X4 as an eight-slot modular system with 100 GbE interfaces. The system costs roughly $600 per 100 GbE port.
Also, NOS maker Big Switch Networks demonstrated at the show an open source system that combines Microsoft-developed Software for Open Networking in the Cloud (SONiC) with Big Switch's Open Network Linux (ONL). Both vendors have contributed their respective software to OCP.
The combined system taps SONiC as the switching OS, while ONL includes drivers, installation scripts and other components needed to support SONiC across a list of white box switches. Nearly a dozen white box and brite box suppliers have validated ONL on their platforms.
"This effort is focused on making it easier to absorb new hardware platforms by providing a uniform abstraction [through ONL]," said Joe Skorupa, an analyst at Gartner. "It makes porting a NOS to a new switch much easier and, therefore, enables agility and reduces cost."
OCP a growing small player
Facebook founded OCP in 2011 as an initiative to share server and data center designs with other organizations. The idea behind the project was to reduce the cost of technology by sharing homegrown gear and software with other companies operating hyperscale data centers.
The effort competes with traditional IT infrastructure vendors for deals with financial institutions, service providers and other companies large enough to develop their data centers, but not as independent as the largest internet companies, such as Microsoft, Google, Facebook and Amazon.
Those lower-tier potential customers number in the hundreds worldwide, said Prashant Gandhi, chief product officer for Big Switch.
"This is not for everybody," Gandhi said of OCP technology. "This is really for the next tier of customers who are still very large and still software-driven organizations."

Cloud service providers and telcos alone spend billions of dollars on data center network equipment worldwide. By 2021, CSPs will account for 23% of the market, or $12 billion, while telcos' share will reach 27%, according to IHS Markit, based in London.
OCP has had an impact on the way Cisco and Juniper do business. To compete with NOS-only vendors, for example, the companies have launched stand-alone versions of their switch operating systems that can run on third-party hardware.
Revenue from OCP technology is growing, according to IHS Markit. In 2018, sales reached $2.6 billion, an increase of 120% over 2017. Annual revenue will grow 56% through 2022 when it reaches $10.7 billion.
Nevertheless, in 2018, OCP technology represented less than 2% of the $149 billion market for servers, storage, networking, rack power and peripherals, according to IHS Markit. By 2022, the percentage will rise to roughly 5%.