Rawpixel - Fotolia
Veriflow launches cloud-only network verification
Veriflow's new CloudPredict SaaS provides network verification for AWS and Google Cloud. The product is for companies that need visibility only in the public clouds.
Veriflow has introduced a SaaS version of CloudPredict for companies that want network visibility in public cloud environments running their business applications.
Veriflow, a small company focused on the network verification component of intent-based networking, introduced CloudPredict SaaS this week, offering companies a "lightweight version" of its two other products, said Shamus McGillicuddy, an analyst at Enterprise Management Associates (EMA), based in Boulder, Colo.
"If you're an IT organization that has poor visibility into your public cloud networks, this is the product for you," he said. "It's priced and packaged for IT groups that need this visibility only in the public cloud."
Veriflow and rivals Forward Networks and Intentionet focus on improving network uptime and security. They do that by letting companies discover network problems that could arise following changes in infrastructure configurations or security policies.
Veriflow's products start with an interactive network model built by applying algorithms to state data from physical or virtual firewalls, load balancers, routers and switches. Network managers can run planned configuration and policy changes against the model to see the impact the modifications would have on the network.
Veriflow has an on-premises version of its technology and a CloudPredict option for companies that have applications running on private data centers and AWS and Google Cloud. The company plans to support Microsoft Azure eventually.
CloudPredict SaaS addresses the needs of companies that already have adequate visibility into their on-premises network and need a network verification component for "pure public cloud environments," McGillicuddy said.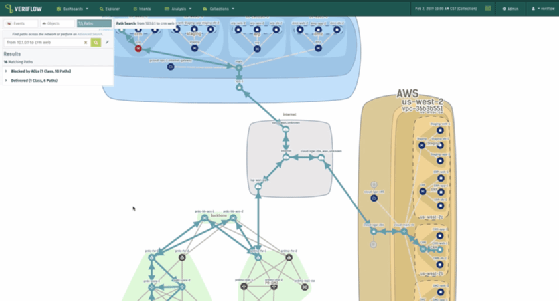 The evolution of intent-based networking
In general, demand for cloud-focused network management tools is growing, as companies increasingly run applications on multi-cloud networks. EMA surveys showed most enterprises were using two or more IaaS providers, and many of those companies found it "challenging to build effective security and network architectures," McGillicuddy said.
Veriflow offers companies technology that they can add to an intent-based networking system (IBNS). In general, an IBNS lets network engineers use a GUI or conversational UI to enter a request for a network change, which the system validates as feasible before sending it on to an engineer for approval. Once it gets the OK, the IBNS uses automation to deploy the new network configuration.
A relatively new approach to network management, intent-based networking technology is immature. However, Gartner recommended enterprises start preparing their networks by purchasing infrastructure that offers high levels of programmability and automation.
Dig Deeper on Cloud and data center networking