Mathias Rosenthal - Fotolia
F5 Cloud Services aims ADC features at DevOps
Initially, F5 Cloud Services will provide only load balancing for DNS servers. Later in the year, F5 plans to add security features for DevOps teams building cloud applications.
F5 Networks has launched a SaaS product that will eventually offer load balancing and some security features to developers building applications for cloud computing environments.
Launched this week, F5 Cloud Services initially will provide server load balancing for domain name systems (DNS). By the summer, F5 will add some web application security features.
Cloud Services offers a subset of the load balancing and security features available in F5's Big IP application delivery controller (ADC). F5 is aiming Cloud Services at DevOps teams that blend application development with IT operations.
"These, as service offerings, are and foremost optimized for cloud-native teams," said Craig Kitterman, senior director of product management for Cloud Services at F5. "By that, I mean application developers and DevOps teams."
F5's interest in modernizing its legacy ADC technology for cloud application developers was behind the vendor's plans to acquire NGINX, which provides ADC services for cloud applications. F5 expects to close the deal in the second quarter.
To stay relevant, F5 and other ADC vendors have to sell to developers and DevOps teams working for the growing number of companies building applications in public and private clouds.
"All ADC vendors must find a way to engage more meaningfully with application developers and DevOps teams, but they'll have to do so on terms that are acceptable to developers and DevOps," said Brad Casemore, an analyst at IDC. "This is why you see the focus on application services and consumption-based models [like SaaS]."
F5's DNS service lets companies create a failover system on AWS that can pitch in when a high-volume of requests threaten to overwhelm a company's primary DNS server. As a result, the F5 system, which can handle up to 100 million query responses per second, prevents DNS traffic from becoming a bottleneck for accessing web applications.
Within a few weeks, F5 plans to let companies configure a virtual DNS server on AWS as their primary system, Kitterman said. The F5 service includes protection against distributed denial of service (DDOS) attacks .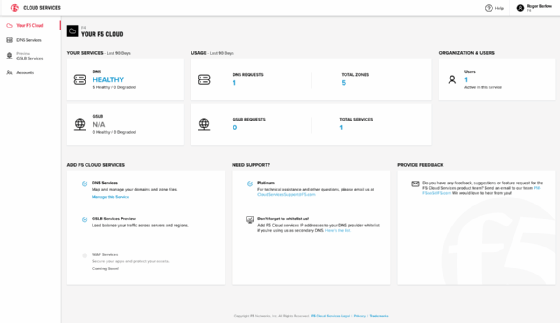 Future plans for F5 Cloud Services
F5 plans to make the SaaS offering available eventually on Microsoft Azure, as well as sell it directly to customers, Kitterman said. Other future services without a timetable for release include load balancing for Layer 4-7 application services.
By the summer, F5 plans to on AWS a preview-only version of a signature-based web application firewall that includes traffic monitoring for bot detection and mitigation. F5 is aiming the security services at developers who might consider adding them as protection for cloud-based containers and other application workloads.
The SaaS offering adds to the other options for F5 ADC services. The company's full Big IP product is available as on-premises hardware or software and as virtualized software for deployment on AWS, Microsoft Azure or Google Cloud.
F5 is still working on the details of the metered pricing for the latest services. In the case of the DNS service, F5 is basing pricing on the number of , which are parts of a domain, and the number of queries, Kitterman said. "[Those are] pretty simple metering vectors for DNS."