qstockmedia - Fotolia
Cumulus NetQ aimed at broader enterprise market
Cumulus Networks has revamped Cumulus NetQ. The latest version of the network troubleshooting and change validation software is aimed at a larger segment of the enterprise market.
Cumulus Networks has overhauled its data center tool set for network troubleshooting and change validation, adding a mainstream, enterprise-friendly graphical dashboard.

The pure-play networking company launched the graphical user interface (GUI) this week as a component of Cumulus NetQ 2.0. The latest version of the network operations tool set also includes a new database for storing and managing more network telemetry data than the previous version.
With the latest release, Cumulus has revamped NetQ to address the needs of a broader segment of the market for enterprise data center networking, said Brad Casemore, an analyst at IDC. Cumulus has three primary offerings: a Linux-based network operating system; branded hardware switches, called Cumulus Express; and NetQ.
"This is all about Cumulus using a new version of NetQ as a means of making Cumulus Linux more acceptable to more traditional network operators who are having to automate and modernize their network operations and infrastructure," Casemore said.
Cumulus has chosen a GUI design in which dashboard cards are used to display small line graphs, each illustrating a single trend. The cards, for example, provide intelligence on network health, switching hardware, and the number of events and notifications that have occurred over a particular period.
A network manager can share his dashboard with others in an organization by sending a link to the console. The feature is useful when troubleshooting a problem requires help from someone in another location, according to Partho Mishra, vice president of engineering at Cumulus, based in Mountain View, Calif.
Also helpful in maintaining network health is the ability to send notifications of problems to managers via third-party software, such as Slack, Splunk or PagerDuty.
Cumulus developed the GUI while continuing to let customers use NetQ's command-line interface (CLI) for retrieving specific types of data from the network. Useful information retrieved through the CLI includes the location of containers on servers, the protocols in use, and the configuration of network overlays and switches.
Companies using the GUI can go beyond specified data collection to continuous monitoring of trends that could indicate potential problems, Mishra said. For example, companies would find the console helpful in monitoring the state of networking infrastructure used for containers within cloud computing environments. Such technology includes virtual extensible LANs.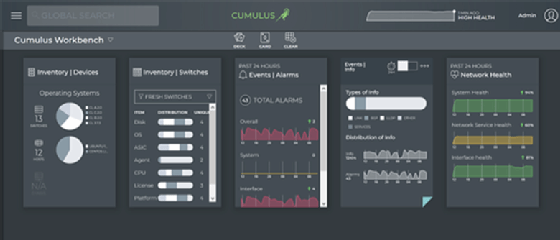 Cumulus NetQ scalability
In NetQ 2.0, Cumulus swapped the software's original Redis database with one based on Apache Cassandra, an open source system designed for storing and managing large amounts of data across commodity servers.
NetQ uses software agents to collect data from switches using the Cumulus network operating system and servers running Ubuntu or Red Hat Enterprise Linux. The agents stream information on all events that could affect network state into NetQ's database, where Cumulus analytics extract the intelligence displayed on the GUI or CLI. Cumulus has designed its database to run on a commodity server.
Cumulus switched to Cassandra to handle networks bigger than the ones the Redis software could support, Mishra said. Cumulus uses the Apache Kafka distributed publish-subscribe messaging system for real-time streaming of event data to the database.
NetQ 2.0's database architecture will make it possible for Cumulus to eventually host the software in the cloud for any size workload, Mishra said.
"In the future, when we introduce a cloud version with the exact same software architecture, we'll be able to scale elastically based upon whatever the workload's processing requirements are," Mishra said.
Cumulus has more than 500 enterprise customers, Gartner said in its July 2018 Magic Quadrant report on data center networking. The vendor's technology is most suitable for organizations that need Linux-based automation tools to manage data center switches.