New D-Link wireless access points launched for SMEs
Two new D-Link wireless access points have been added to D-Link's Wave 2 unified AP portfolio. Designed specifically for SMEs, the APs are flexible and scalable, according to the vendor.
D-Link has added two new unified wireless access points to its Wave 2 lineup. D-Link designed the APs for SMEs, marketing them as flexible and scalable for high-density environments.
D-Link's wireless access points (APs) include the Wireless AC2600 Wave 2 Dual-Band Unified Access Point (DWL-8620AP) and Wireless AC2600 Wave 2 with External Antenna (DWL-8620APE). Utilizing 802.11ac Wave 2 technology, the new APs support 2.5 Gbps connectivity, according to D-Link.
The APs also support multi-user, multiple input, multiple output (MU-MIMO), up to 160 MHz channel width, and additional 5 GHz channels.
The APs also contain the following features:
Link Aggregation, which doubles available bandwidth and increases overall throughput;
Up to 64 virtual local-area networks;
11k Fast Roaming, which allows the client to quickly determine which AP to roam to next;
4x4 MU-MIMO, which decreases the length of time a device waits for a signal, enables simultaneous communication with multiple clients, and increases network capacity; and
1p Quality of Service with Wi-Fi multimedia, which allows users to prioritize the connection of certain apps or services.
The DWL-8620AP features two internal omnidirectional antennas, while the DWL-8620APE features four external detachable dual-band omnidirectional antennas -- the former suited for indoors, and the latter for outdoors. Both APs have integrated Power over Ethernet support.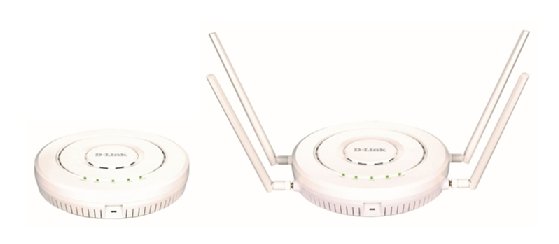 D-Link has also integrated features in its wireless access points to mitigate network congestion, including band steering technology that places clients on the optimal wireless band; and Airtime Fairness, which provides equal airtime to each client to ensure performance even with slower devices connected to the network.
According to D-Link, the APs can stand alone. Alternatively, admins can manage up to 1,024 APs via D-Link Wireless Controllers.