Victoria - Fotolia
New Cisco SD-WAN for enterprises using colos
The new Cisco SD-WAN for co-location facilities is aimed at enterprises that have dozens of branch offices in major cities in multiple countries.
Cisco has unveiled a software-defined WAN platform for large enterprises that want to use a co-location facility as a hub for connecting branch offices to a private data center and cloud-based services.
This week, Cisco introduced the SD-WAN Cloud onRamp for CoLocation, a collection of products for enterprises with dozens of branch offices clustered around major cities with regional co-location facilities. Enterprises can use the Cisco SD-WAN bundle to make a colo the central location for managing and securing connections to the data center, SaaS vendors and applications running in public clouds.
Connectivity management could include, for example, setting priorities for video, email and web-browsing traffic and ensuring low latency and no jitter on the most critical applications. For security, a network interface at each branch office and data center establishes a secure tunnel to the co-location facility, while the Cloud onRamp uses a similar mechanism to connect to the data center and SaaS and public cloud applications.
Remote workers can connect to the Cloud onRamp via an SSL VPN tunnel. The Cisco SD-WAN platform also accommodates corporate partners, such as suppliers, with existing physical links to the co-location facility.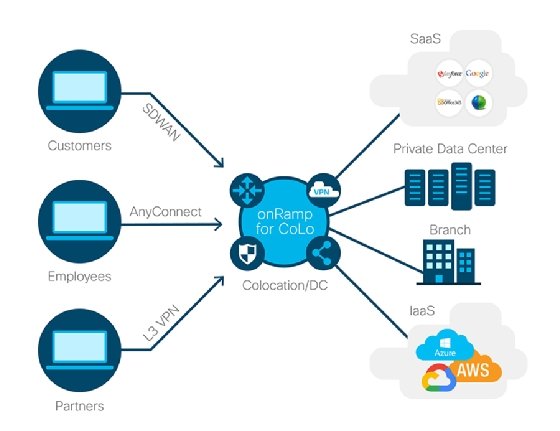 Many enterprises avoid managing SD-WANs
Enterprises often use co-location operations to run parts of a legacy application, such as a database, while migrating the rest of the software to a public cloud, said Bob Laliberte, an analyst at Enterprise Strategy Group, based in Milford, Mass. However, it's not clear how many large enterprises would want to manage multiple SD-WANs serving branch offices spread across various countries.
Many enterprises prefer to farm out the work to service providers, Laliberte said. "Most large enterprises I have spoken to are consuming SD-WAN as a service via large providers."
The SD-WAN Cloud onRamp product bundle includes Cisco's vManage software for configuration management and monitoring of the SD-WAN. The package also contains Cisco's Cloud Services Platform, which is an x86 Linux Kernel-based Virtual Machine (KVM) for running virtual network functions (VNFs).
The platform provides connectivity to the data center and cloud and SaaS applications, and orchestration software for the VNFs, which run a variety of security services, such as firewalls, URL-filtering, intrusion detection and domain name system-layer security. Non-security services include load balancing.
A Cisco Catalyst 9500 provides the switching for the VNFs and the inbound/outbound WAN connectivity.