WavebreakMediaMicro - Fotolia
Cisco SD-WAN to use Google Cloud backbone
Cisco plans to launch next year SD-WAN technology that improves WAN performance by directing traffic over Google Cloud's low-latency network backbone.
Cisco plans to significantly improve integration between its software-defined WAN and the Google Cloud Platform. The upcoming technology enhancement lets Cisco customers manage cloud and SaaS application traffic over Google's low-latency network backbone.
The future offering, called the Cisco SD-WAN Cloud Hub with Google Cloud, connects Cisco's Viptela SD-WAN with the Google Cloud Service Directory. The integration, announced this week, would let users extend their SD-WAN polices to cloud applications. The software could be on multiple public clouds, SaaS vendors, or private clouds powered by the Google Anthos container platform.
The longtime partners are aiming the latest technology at Cisco customers willing to make Google Cloud a critical element within their WAN operations. Analyst firms rank Google third among cloud providers in terms of sales. AWS is first, followed by Microsoft Azure.
The Google Cloud Service Directory provides a central location for publishing, discovering and connecting to services running on any site. However, the technology is in beta and carries a warning that it "is in a pre-release state and might change or have limited support."
Cisco and Google plan to make their latest joint effort available to select customers by the end of the year. The product won't be generally available until the first half of next year.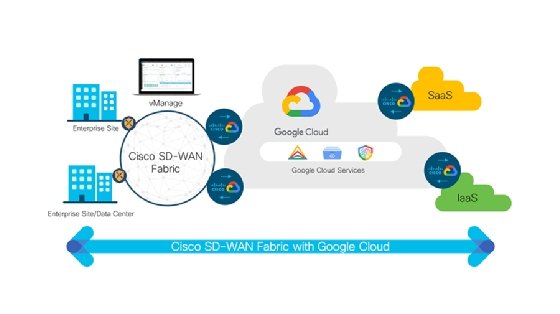 Viptela on Google
With the technology, Cisco Viptela customers would publish application data within the Service Directory, which lets the application request the necessary network resources. The SD-WAN uses the application data to determine which traffic path is best, depending upon the application's latency requirements, according to Cisco's blog.
For example, a video conferencing application that requires low latency would have that requirement described in metadata within Service Directory. An instance of the Cisco SD-WAN running on Google would apply policies prioritizing application traffic through the directory. Users create and manage policies through Cisco's SD-WAN controller, vManage, which also monitors network performance.
A key benefit to users would be Cisco's ability to guide customers' application traffic across Google's backbone. The network comprises a global deployment of high-capacity fiber optic cables and 3,000 internet service providers in more than 200 countries, according to Google.
The Google network is "known for its capacity, high performance and low latency pretty much globally," said Rohit Mehra, an analyst at IDC. Such a network is significantly better than managing network connections across the public internet.
"With this kind of a partnership, [users] have end-to-end [network] visibility, compliance and governance, and the ability to use such a powerful cloud backbone," Mehra said.
One caveat is that an enterprise would have to buy into Google's cloud infrastructure to connect to software running on Azure and AWS, and to SaaS applications like Microsoft Office 365 and Salesforce. Whether that architecture is the best option will depend on a company's priorities.
"If you're an Office 365 customer, you're going to connect to the Azure network for your best performance," said Steve Garson, CEO of consulting firm SD-WAN Experts.
Cisco does not have an exclusive deal with Google. IT vendors have been partnering with cloud providers for some time to gain access to their global networks. Security vendor Palo Alto Networks, for example, recently acquired SD-WAN vendor CloudGenix, which used Google's backbone for WAN connectivity.
Cisco could announce similar deals with Azure and AWS. At the same time, rivals could do the same with Google and its competitors. Garson said the use of cloud backbones to reduce latency variation in a global network is the "future direction for all SD-WAN companies."
Dig Deeper on Cloud and data center networking