.shock - Fotolia
Pluribus Networks unveils edge router for service providers
Pluribus Networks has unveiled a gateway router for service providers that's a no-frills alternative to products from Cisco and Juniper Networks.
Pluribus Networks has introduced a no-frills white box version of an edge router aimed at service providers looking for commodity hardware to reduce networking costs.
The Freedom Series 9532C-XL-R, an edge router used as a gateway to the internet, would compete with bare-bones versions of Juniper Networks MX10003 and the Cisco ASR9000, said Alessandro Barbieri, vice president of product management at Pluribus, based in Santa Clara, Calif. The strategy behind the new product is to offer co-location (colo) facilities and cloud and managed service providers a Multi-tenant system, with limited features at a lower cost.
"This is a cost-effective alternative to a traditional router, which is sort of a Swiss Army knife that can fit into many more applications," Barbieri said.
Pluribus claimed its router is one-fifth the cost of products from established vendors. But Michael Howard, an analyst at London-based IHS Markit, said comparing pricing requires a thorough examination of the hardware and its features.
"When any vendor makes that claim, you have to look at what exactly is being compared," Howard said.
For example, Pluribus claimed its use of merchant silicon helps lower the cost of its system. However, Cisco and Juniper offer the same chips in their low-end hardware, saving their proprietary silicon for high-end products. By 2022, merchant silicon will ship in 63% of all data center Ethernet switches, according to IHS Markit.
Price aside, Pluribus is making its debut in the edge router market at a time when service providers and colos are buying more commodity networking hardware for regional data centers and facilities at the edge of their networks. An example of the latter is telecom companies' central offices, which connect businesses and homes to the core network.
Pluribus' offering could have a shot against established vendors, if the latter's products have too many features that buyers have to pay for, but don't want, Howard said. "That's the inventiveness of Pluribus to see this opportunity."
What's in the Pluribus Networks Freedom Series router?
The Pluribus product is a partnership between the network operating system maker and Edgecore, a manufacturer of commodity switches and routers. The 9532C-XL-R, scheduled for release in July, runs Pluribus' Netvisor ONE, which is a Linux-based Layer 2 and Layer 3 programmable network operating system.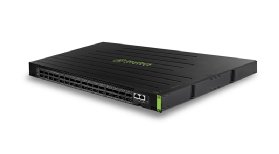 The router provides 32 ports of 100 Gigabit Ethernet or 128 ports of 10 GbE and 25 GbE. Edgecore has packed either option in a 1RU package, with a routing table supporting up to 128,000 routes.
The number of routes the hardware supports contributes to the lower cost of the product, according to Pluribus. More traditional gateway routers for service providers support eight times as many routes, which require a lot more memory.
The 9532C-XL-R lets service providers isolate customer traffic by steering it through a dedicated containerized virtual router based on FRRouting, an open source IP routing protocol for Linux platforms.
Dig Deeper on Network Infrastructure