DH2i's DxConnect brings zero-trust connectivity to networks
DH2i's zero-trust architecture software, DxConnect, will address common security issues and bring microtunnel development, discreet invisibility, an open API and more.
DH2i launched DxConnect, a network security software for zero-trust networking. According to the vendor, DxConnect enables developers and administrators to build a zero-trust connectivity security infrastructure for cloud applications, hybrid and multi-cloud connectivity, and privileged user access without using a VPN.
DH2i intends to address network security issues that typically arise with legacy connectivity approaches -- like VPNs -- such as complex deployment and management, slow and unreliable connections, limited scalability, vulnerable networks and escalating costs.
Designed to work with DH2i's DxOdyssey software, DxConnect can confront legacy VPN, cloud-native and privileged user access security issues, as well as enable encrypted microtunnel development to span isolated networks, connect containers and form a secure multi-cloud service mesh.
Zero-trust networks are those that require strict authorization for any user or device attempting to access resources on a private network. By eliminating default user access to a network, zero-trust connectivity prevents data breaches and improves security across an organization's repertoire of data.
DxConnect's zero-trust architecture features microperimeters, discreet invisibility, multi-cloud readiness, smart availability and an open API to support secure connectivity:
The ability to create microperimeters to segment by application eliminates lateral network attacks; unifies HTTP, Secure Socket Shell and intermicroservice connectivity; and provides users fast, direct access to applications and services.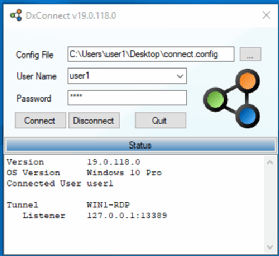 DxConnect's discreet invisibility -- randomly generated, nonstandard User Datagram Protocol ports -- eliminates network attack surfaces and cloaks and secures users, services and devices.
Multi-cloud readiness, enabling secure application data communication, scales across hybrid and multi-cloud environments, uses native cloud platform capabilities and supports consistent policies and auditing across hybrid and multi-cloud environments.
Smart availability, with automatic fault detection and failover, automates and orchestrates microtunnel and workload creation and location and enables an "always-secure and always-on" application infrastructure.
Lightweight software with an open API -- powered by Linux or Windows -- enables secure interconnection with DevOps toolchains; supports Kubernetes, Docker, Chef and Puppet for scaling apps; and hardens existing network security infrastructure.
As IoT devices and edge computing grows within computer networks, it becomes more difficult and demanding to secure networks; Cisco expects the number of networked devices to reach 28.5 billion by 2022, compared to 18 billion in 2017. A data breach investigation report by Verizon found that the majority of data breaches were due to technical deficiencies in computer networks.
While the VPN security model was not designed to meet the demands of IoT, cloud and edge computing advancements, a networking security overhaul is not necessary; the vendor claims DxConnect can augment existing legacy security systems.