kentoh - Fotolia
Fortinet TCO low, Silver Peak high in NSS Labs SD-WAN report
The latest NSS Labs SD-WAN report gives Fortinet the best ratings for value and total cost of ownership, while Silver Peak gets the worst of eight vendors.
NSS Labs' evaluation of eight software-defined WAN products found Fortinet to have the highest value and lowest total cost of ownership and Silver Peak to have the worst numbers in both categories.
The independent testing firm released this week its second annual NSS Labs SD-WAN report. The products tested included Barracuda Networks' CloudGen Firewall, Citrix Systems' SD-WAN, Forcepoint's NGFW Engine, Fortinet's FortiGate, Oracle's Talari SD-WAN, Silver Peak's Unity EdgeConnect, Versa Networks' FlexVNF, and VMware's SD-WAN by VeloCloud.
NSS Labs listed Silver Peak as having the highest total cost of ownership (TCO) at $37 per megabits per second (Mbps). That number would translate into a TCO of $2,397,800 over three years.
Fortinet had the lowest TCO at $4 per Mbps or $138,408 over three years. The TCO ranking for the remaining vendors was Versa Networks, $10 per Mbps or $585,775; Barracuda Networks, $16 per Mbps or $371,782; Oracle, $20 per Mbps or $1,138,700; Forcepoint, $23 per Mbps or $1,051,882; Citrix Systems, $24 per Mbps or $1,399,610; and VMware's VeloCloud, $28 per Mbps or $1,650,978.
Except for Barracuda Networks, the vendors claimed TCOs were lower than what NSS Labs found in its tests.
NSS Labs has developed a formula for TCO per Mbps that takes into account the firm's throughput testing, the quality of video and voice over IP delivery, and the number of sites attached to the SD-WAN products.
"The TCO per megabits per second metric provides guidance as to whether the price for an SD-WAN is higher or lower than an alternative, such as an MPLS or a competing SD-WAN product," the NSS Labs SD-WAN report said. "A high price could indicate a premium based on features, bandwidth, service-level agreements, brand recognition, or level of customer service. Conversely, a high price could also be a penalty for purchasing an underperforming product."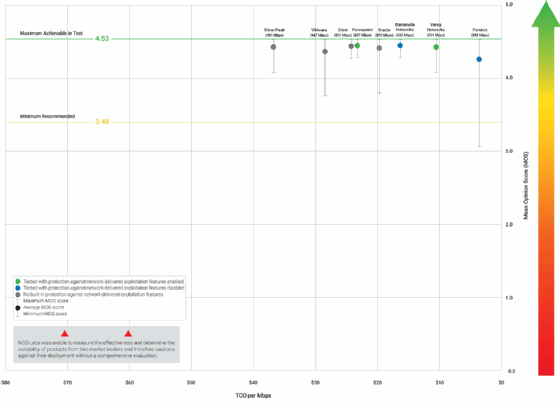 NSS Labs' value metric
NSS Labs' evaluations also provided a value metric indicating whether a product was underpriced, overpriced, or priced accurately when compared with other tested products.
NSS Labs considered products with purchase prices higher than the value metric as overpriced and those with purchase prices lower than the value metric a good value.
Fortinet had the best value with a purchase price of about $119,208 and an actual value of $555,043. Silver Peak had the lowest value with a price tag of $1,509,650 and a value of $919,990.
Value ratings from best to worse for the remaining vendors were Versa Networks, with a purchase price of $275,575 versus a value price of $785,463; Barracuda Networks, $302,782 versus $321,425; Oracle, $800,900 versus $816,204; Citrix Systems, 832,220 versus $816,903; Forcepoint, $751,882 versus $638,968; and VMware's VeloCloud, $1,232,243 versus $816,636.
Overall, NSS Labs found that the products tested met its minimum performance standard for voice over IP and video traffic. As a result, the testing firm gave each of the products a recommended rating for those use cases.
NSS Labs tested the products for manageability and cost, performance, and security. The testing architecture included two branch offices and one data center. Each branch had an MPLS link and an internet service provider connection. One of the branches also had a dedicated tunnel to a software-as-a-service server.
Missing from the SD-WAN product evaluations was Cisco's Viptela, a market leader along with products from VMware and Silver Peak, according to Gartner. Last year, Cisco prevented NSS Labs from testing its product by refusing to issue a license for the software.