ARM upgrades network visibility tool cARMa and adds Guru
ARM Data Center Software upgraded its SaaS network inventory tool cARMa to include more network visibility capabilities, including the introduction of mapping and analytics tool Guru.
ARM Data Center Software released updates to its SaaS network inventory tool, cARMa, that intends to increase network visibility. Included in the update is Guru, an analytics and mapping tool that provides insight on how customers engage with their network.
ARM's cARMa tool enables users to design circuits and associate orders, revenue and expenses to network infrastructure to gain visibility into network infrastructure components such as expense, revenue, workflow and capacity.
End-to-end network visibility enables organizations to boost troubleshooting abilities, understand how network issues affect data and improve overall security of the network. Network performance monitoring tools are essential to network visibility and identifying the root cause of performance issues or weaknesses.
The addition of Guru intends to provide operational and financial insight into a network by providing detailed views of how customers use network resources. Reading directly from the Circuit Layout Record in cARMa, Guru goes beyond end-point location impacts and identifies impacts to customer, network and services at any level.
ARM anticipates Guru will be used in use cases such as support organizations prioritizing impact down to a port or executives identifying sales revenue risk from their mobile device.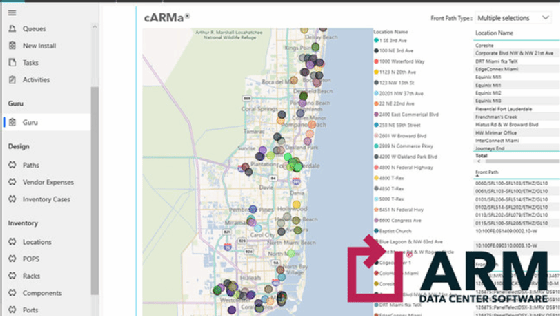 Other cARMa capabilities and features to manage, change and document network inventory include the following:
Integrated CRM system data improves customer communication and experience.
Persistent audit logs track changes to network elements, while native built-in workflows automatically link tasks to the network element affected.
Comprehensive search enables users to find records by identifying all relevant matches across data fields, notes or attachments.
Geographic location mapping of tasks and workflows enables users to view field activity.
Full-function mobile access enables users to complete tasks and see insight from mobile devices.
CARMa network inventory SaaS, built on the Microsoft cloud, has native integration with Microsoft Office 365, Dynamics 365, Teams and Azure Active Directory. The upgraded cARMa with Guru is available now to organizations of all sizes, with a monthly, per-seat pricing plan.