Fotolia
U-turn in network market forecast amid coronavirus pandemic
IDC predicts the global market for switches and wireless LAN products will fall in 2020, with revenues from switches below last year and wireless LAN sales rising less than 1%.
Buyers of networking hardware and software are pulling back on spending worldwide as uncertainty grows over government efforts to stop the novel coronavirus pandemic.
The tightening of the purse strings has led IDC to lower its 2020 forecast for the Ethernet switch and wireless LAN markets. The research firm expects the latter to grow by 0.9% from 2019, while the former will shrink 0.7%. The revised numbers represent a 3.7 percentage point drop from IDC's earlier forecast for Ethernet switches and a 4.8 percentage point decline for WLAN revenue.
In dollar terms, IDC estimates the switch market will reach $28.5 billion this year while WLAN revenue will be $6.2 billion.
The latest numbers are not final. The pandemic is far from over, and its impact on global economics remains an "exceptionally fluid situation," IDC said. The analyst firm plans to update its forecasts later in the year.
"If we can't get this public health crisis under control, the economic impacts of it will continue and continue to worsen, frankly," Brandon Butler, an analyst at IDC, said.
The new coronavirus, which causes the COVID-19 disease, first appeared in Wuhan, China, in late December. To prevent the virus from spreading, China shut down factories in the region. Many of the facilities build networking gear for vendors in the United States, Europe and elsewhere.
If we can't get this public health crisis under control, the economic impacts of it will continue and continue to worsen.

Brandon ButlerAnalyst, IDC
China has managed to control the spread of the virus, so the country is gradually reopening its factories. However, the coronavirus is now ravaging the United States and Europe. As a result, cities have ordered businesses to close or have employees work from home to slow, and eventually stop, the spreading virus.
Demand varies by industry
Industries that have suffered the most from government decrees to send people home include hospitality, transportation, retail, education, manufacturing, sports and performing arts..
"Decisions on how [those] organizations are going to be retooling their networks are just going to take longer now," Butler said. Tech buyers will wait until customers return before deciding whether to buy more network infrastructure.
Some industries will buy more network products during the crisis, IDC said. Healthcare is one, along with communication, cloud and SaaS providers. Demand for services from the latter three will grow as the number of people working from home soars.
IDC expects the public health crisis to subside by the third quarter, which should start a rebound in network infrastructure shopping. The analyst firm has enough faith in demand surging that it hasn't changed its forecasts for 2021.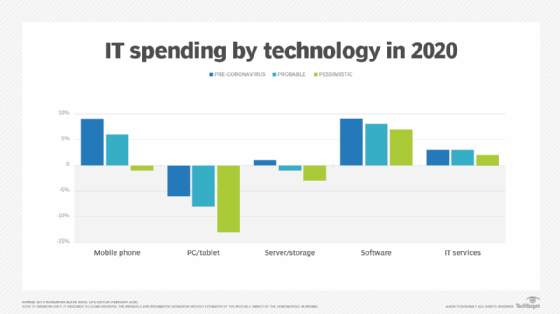 For example, companies that planned to upgrade their WLANs to the new Wi-Fi 6 standard before the pandemic should restart the projects. That's because those businesses will still need the higher speeds and device support the upgrade provides.
"We think Wi-Fi 6 is going to continue to drive this market toward the latter part of this year," Butler said.
A new normal
By the time demand increases, factories in China should be at full capacity. In April, manufacturers expect to be at 60% to 80% of capacity and at 100% by June, according to IDC. Currently, orders to factories are taking as long as eight weeks to fulfill. Before the crisis, the average wait time was one week.
Beyond the future improvements in supply and demand, the tech market as a whole could head into "a new normal" after the crisis, Butler said. Companies could, for example, start buying technology that prepares them for future disruptions, such as another pandemic or a natural disaster.
In preparation for the next calamity, companies could purchase collaboration platforms and network products aimed at supporting more people working from home. "This will certainly cause businesses to rethink their operations and how they can prepare for events like this in the future," Butler said.