Rawpixel - Fotolia
Tech pros focus on application delivery during pandemic
Tech pros have added security, automation and session capacity to their application delivery infrastructure to support business operations during the pandemic.
During the pandemic, technology professionals have leaned on application delivery infrastructure to keep companies operating and support the high number of employees working from home, a recent survey found.
The COVID-19 threat forced nine out of 10 tech pros surveyed by Enterprise Management Associates (EMA) to modify the technology used to support application access. The study released this week focused mostly on the general use of application delivery infrastructure with a section on the pandemic's impact.
Engineers have added security and automation to their company's infrastructure that will likely remain even after the pandemic, said Shamus McGillicuddy, an analyst and the author of the report.
The vulnerabilities companies found as a result of having at-home workers won't go away after the COVID-19 crisis. McGillicuddy said. Also, the benefits of automation "go beyond whatever temporary conditions were created by the pandemic."
Security draws the most attention
The highest percentage of survey respondents added security to their infrastructure in response to the health crisis. Of the 253 companies represented in the survey, 40% added web application firewalls and protection against distributed denial-of-service (DDoS) attacks. They used the technology to secure applications on the cloud and private data centers.
DDoS assaults have grown in intensity this year. This month, for example, Akamai Technologies neutralized two of the most massive DDoS attacks ever recorded on its platform.
According to EMA, 39% of businesses responded to the pandemic by increasing throughput and bandwidth within their application delivery infrastructures. Also, 38% increased session capacity to support more people accessing applications at the same time. An equal percentage increased automation within their infrastructure.
Thirty-five percent of respondents said their organizations had added application delivery infrastructure to newly created public cloud environments. The focus on cloud-based applications indicated that businesses were doing less work related to application delivery in their private data centers, EMA said.
Organizations had the least interest in boosting the monitoring and analytics capabilities within the controllers used to manage application delivery infrastructure. Only 27% of organizations expanded their use of the technology, an indication that they turned to other IT operation tools, such as network and application performance monitors.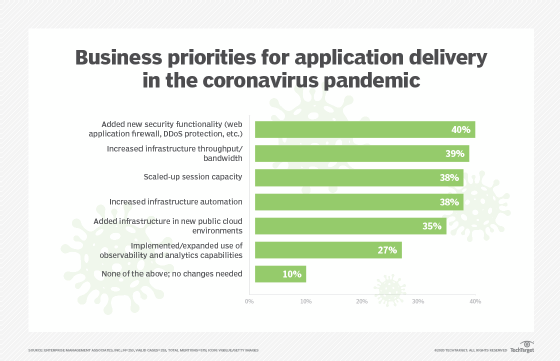 Supporting employees working from home
To support working-from-home employees, more than a third of technology engineers used their application delivery infrastructure to provide better software performance to more workers.
Just over 30% used the infrastructure to manage the bandwidth of remote-user sessions. More than a quarter used it for load balancing those connections and controlling bandwidth consumption at gateways and transit points.
Finally, 23% of tech pros supported home workers by using application delivery infrastructure to bolster multi-cloud architectures. Bring your own device compliance was a low priority, attracting the attention of only 21% of the survey respondents.
Companies least likely to make changes to their infrastructure in response to the pandemic were enterprises with revenue of $1 billion or more and businesses with flat or shrinking tech budgets, EMA said.
Application delivery infrastructure provides Layer 4-7 services that include application acceleration, load balancing, secure sockets layer offload and web application firewalls. Specific technologies that provide those services are application delivery controllers, cloud-based and on-premises load balancers and firewalls, and service mesh software.
Half the companies represented in the survey were in the tech industry. The others included manufacturers, retailers, bankers and healthcare providers.
"There were some differences by industry, but not a lot," McGillicuddy said.
As a whole, tech companies were not more sophisticated than other businesses in their use of technology. "Some of them might be sophisticated, but plenty are clueless," McGillicuddy said.