Getty Images/iStockphoto
Extreme Networks extends network fabric to the edge
Extreme Networks extends its SD-WAN network fabric to the edge to unify wired, wireless and WAN networking for simpler network control and more application performance monitoring.
Extreme Networks recently announced it has woven its software-defined WAN into a single fabric that extends to an organization's branches, simplifying deployments to remote sites.
The SD-WAN extended fabric connects enterprises' data centers to their branch locations by automating connections to switches, access points and SaaS app discovery.
Through Extreme's cloud-based management portal, ExtremeCloud IQ, the extended fabric unifies wired, wireless and WAN networking for simpler network control.
"It's making it much easier for customers to deploy a fully integrated solution amongst the three," said Dan Debacker, product management director at Extreme Networks.
In one physical infrastructure, the SD-WAN extended fabric creates virtualized, hypersegmented networks. Within these hypersegmented networks, administrators can assign policies, applications and other components in that same physical infrastructure, according to Debacker.
This hypersegmentation allows enterprises to run these applications and policies across various locations in the network, supporting the same user experience for all employees, regardless of their location.
"What we want to make sure of is that the end-user experience is very simple, very consistent," Debacker said.
As the SD-WAN fabric extends to the branches, so, too, do the application performance monitoring capabilities. This helps personnel troubleshoot problems from the user's perspective, whether it be related to storage, servers or end devices.
"There's some visibility into what's happening at that specific branch," Debacker said.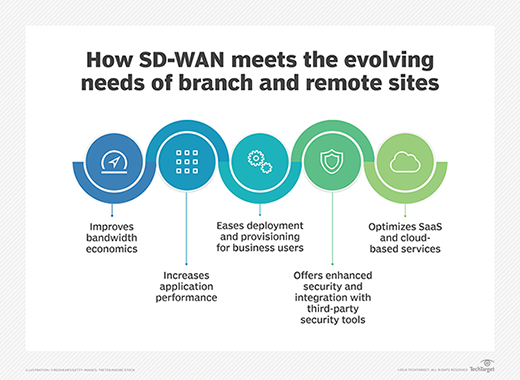 The SD-WAN extended fabric unveiling comes on the heels of Extreme acquiring Ipanema for $73 million in 2021. Extreme integrated Ipanema, the SD-WAN division of Infovista, to make ExtremeCloud SD-WAN. ExtremeCloud is the company's first SD-WAN offering.
"Ipanema was previously a WAN optimization; they refactored and went to build out a totally cloud-native SD-WAN capability," said Bob Laliberte, principal analyst at TechTarget's Enterprise Strategy Group.
Now, a year and a half later, Extreme is leveraging its SD-WAN to give organizations better remote control of the network.
"They've been able to integrate it in a fairly short order," Laliberte said.
The Ipanema acquisition was the latest in a string of Extreme's big purchases over the last several years. In 2019, Extreme bought the cloud-managed products of Aerohive Networks. In 2017, Extreme acquired campus networking products from Avaya and a data center business from Brocade. In 2016, the vendor acquired wireless LAN business from Zebra Technologies.
"This is a great proof point of their ability to acquire and integrate technology at a faster pace," Laliberte said.
Extreme has taken many steps to get to SD-WAN fabric as a single platform, but Meraki, Cisco's cloud-managed network offering, still looms large.
"Meraki has been the recognized leader in this space," Laliberte said. "What you're seeing now is a lot of very good competition from the other players."
Other competitors include Aruba and Juniper, Laliberte said.
Extreme Networks also unveiled a 10 Gbps software-defined networking hardware appliance, the IPE2200, to support high-bandwidth environments with larger traffic volumes. Expected availability for the IPE2200 is June 2023. The SD-WAN extended fabric's expected availability is March 2023.
Mary Reines joined TechTarget Editorial in October 2022 as a news writer covering networking. Prior to TechTarget, Reines worked for five years as arts editor at the Marblehead Reporter, her hometown newspaper. She received her bachelor's in journalism from the University of Massachusetts Amherst, where she served as an assistant news editor for the student newspaper, The Daily Collegian.