buchachon - Fotolia
SDN blogs: SD-WAN may be the answer to your problems
This week, experts discuss software-defined WANs as an alternative to traditional wide area networks. And one startup is looking to make data centers more efficient.
In this week's blogs, one expert discusses the advantages of SD-WANs and why they are promising alternatives to traditional WANs. Startup Fiber Mountain Inc. has a new strategy, which looks to improve data center flexibility and efficiency.
And finally, one expert explains how to construct software-defined networks and says users cannot simply buy them.
SD-WANs are the new WAN alternative
In a recent Gartner blog post, networking expert Andrew Lerner breaks down the benefits of the software-defined WAN (SD-WAN) compared to the traditional WAN. Lerner writes about increasing interest in using public Internet access to supplement carrier-grade circuits. However, he adds that it can be difficult to achieve in the traditional router-based WANs, because the addition can lead to poor application performance.
Enter SD-WAN, which Lerner says reduces cost and complexity while improving agility.
SD-WAN supports efficient load-sharing of traffic across multiple WAN connections. In addition, SD-WANs must have secure virtual private network (VPNs) and the ability to integrate additional network services.
SD-WAN is still relatively new to the space, but Lerner says the technology is expected to grow at a faster rate than data center SDN.
Fiber Mountain could improve data centers
In a recent Packet Pushers blog post, tech journalist Drew Conry-Murray shares his thoughts on startup Fiber Mountain's new data center efficiency strategy. He says by using a combination of fiber optics and SDN, the company may help data center networks become more flexible and efficient.
"Fiber Mountain offers an optical interconnect scheme that lets you create network paths between racks in a row, or among rows, without having to pass that traffic from a top of rack switch to core or spine switches first," Conry-Murray writes.
He says a company doesn't need to replace all of its data center equipment right away, since Fiber Mountain's products can complement existing infrastructure. At first, adding the new equipment to just two or three racks is sufficient, he said.
In addition to offloading traffic from core switches and creating direct paths between racks and rows, Conry-Murray writes that Fiber Mountain has provided additional use cases for its system, the Glass Core.
Finally, Conry-Murray asks whether users will buy into Fiber Mountain's vision without a clear reason to risk investing in a new company's ideas and products. Despite its potential, he says Fiber Mountain's value proposition could be lost in the sea of new technologies targeting data center transformations.
Why you can't just buy an SDN
In a recent post on his Ethereal Mind blog, network architect Greg Ferro explains that users cannot simply buy software-defined networks (SDNs) -- they must construct them piece by piece.
"A software-defined network is not a thing," he writes. "SDN is a built thing made of many elements."
Ferro explains that just as you can't buy a routing protocol, data center or security strategy in one simple step, you can't buy an SDN. Instead, you must purchase the necessary equipment and applications and find people to construct and oversee each aspect. Once those steps are complete, you then have to smooth out the interfaces and make them work for your business.
Below is an infographic Ferro provides that shows the functional components of an SDN automation platform.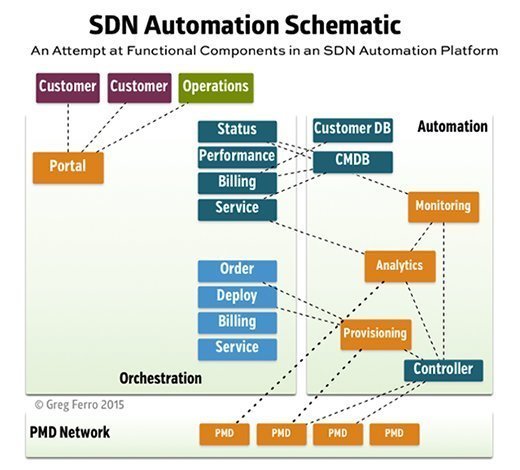 Next Steps
Start building your SDN architecture today
Interest in SD-WAN, but limited deployment
Data centers are becoming more efficient
Dig Deeper on Network management and monitoring